WeChat Channel : Everything You Need to Know
WeChat Channel is a short video and live-streaming platform within WeChat that lets users create and share video clips and photos to their own WeChat Channel.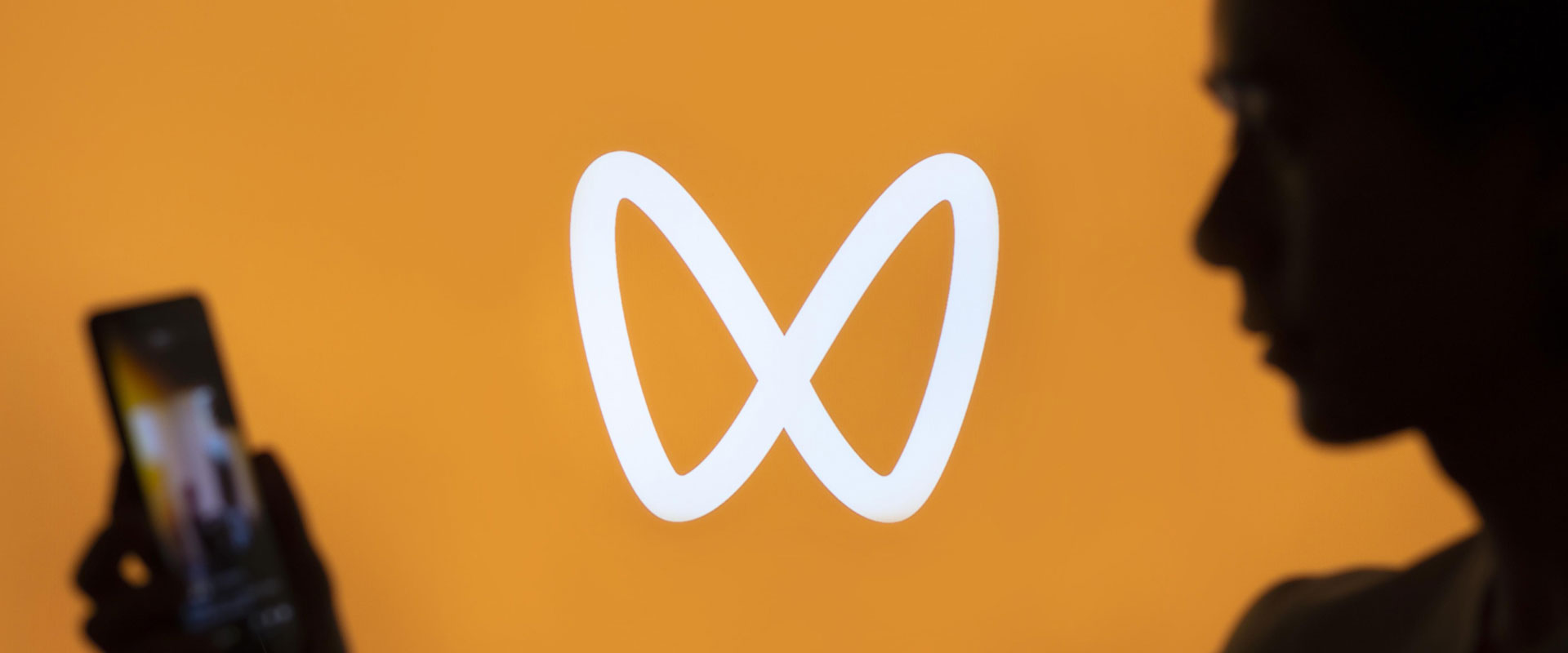 In the ever-evolving landscape of digital communication, staying ahead of the curve is paramount for businesses aiming to thrive. Our comprehensive guide will embark on a journey to demystify the potential of WeChat Channel.
In the following pages, we'll delve into the essence of WeChat Channel, explore why it's a game-changer for both B2B and B2C companies, showcase real-world case studies that exemplify its impact, provide step-by-step instructions for setting up your WeChat Channel, offer invaluable tips for crafting compelling content, and guide you in personalizing your WeChat strategy for optimal results.
What is a WeChat Channel ?
WeChat Channel came out in 2020. It is an integrated feature inside the WeChat app that allows users to watch short videos and live-streaming. Similar to TikTok abroad, it offers a dynamic online environment for users to receive information.
In December 2021, WeChat channel had reached more than 500 million daily active users.
Moreover, it can be accessed through various public domain entry points such as Official Account articles, Search, Explore, Recommendations, Topics, and Nearby Live. Additionally, private domain entry points like Moments, WeChat Groups, WeChat Chats, Profile Pages, and the Discover Page can directly lead to Video Accounts.
Why you should use WeChat Channel as a B2B & B2C company ?
WeChat Channel's characteristics :
Positioned in the 'Discover' section, and content can be shared to Moments.
By clicking on the title link below a video, users can directly jump to the respective WeChat Official Account article, creating an information flow and enhancing user engagement."
WeChat Channel, with the support of a massive user pool of 1.2 billion real-name verified users, offers a larger audience. With verified users, there's greater assurance when it comes to forwarding and commenting. The recommendation mechanism for Video is based on likes, emphasizing social aspects for content dissemination.
WeChat Channel requires only two steps from attracting to conducting transactions. You can achieve this by releasing videos with links to your Official Account, and then embedding paid links within your Official Account articles.
Alternatively, you can attract user attention to your Video Account by creating product experiences or product reviews and then lead them to monetization through Mini Program connections.
Recommendation Mechanism for WeChat Channel :
The recommendation mechanism consists of algorithmic recommendations and social recommendations, creating a dual-recommendation system.
Algorithmic recommendations are based on user's preferences, and this content appears in the recommendation feed. The system recommends content to you based on your preferences.
Official Accounts allow for the direct publication of text and article links. Video content can be seamlessly integrated into Official Account articles with detailed descriptions, ultimately driving traffic to the Official Account itself. WeChat Channel and Official Account can work together, increasing exposure and gaining more followers while boosting article views.
WeChat Channel makes it very convenient to share links, supporting one-click forwarding and direct sharing with WeChat friends. Recipients can simply click on the WeChat Channel to view its content and find a clear 'Follow' button. This easy sharing method makes WeChat Channel content more shareable and increases its potential for viral circulation.
By complementing each other in content format, browsing experience, and monetization methods, these two accounts not only drive new followers through cross-promotion but also offer multiple growth pathways, enhancing the value of Public Accounts.
Case studies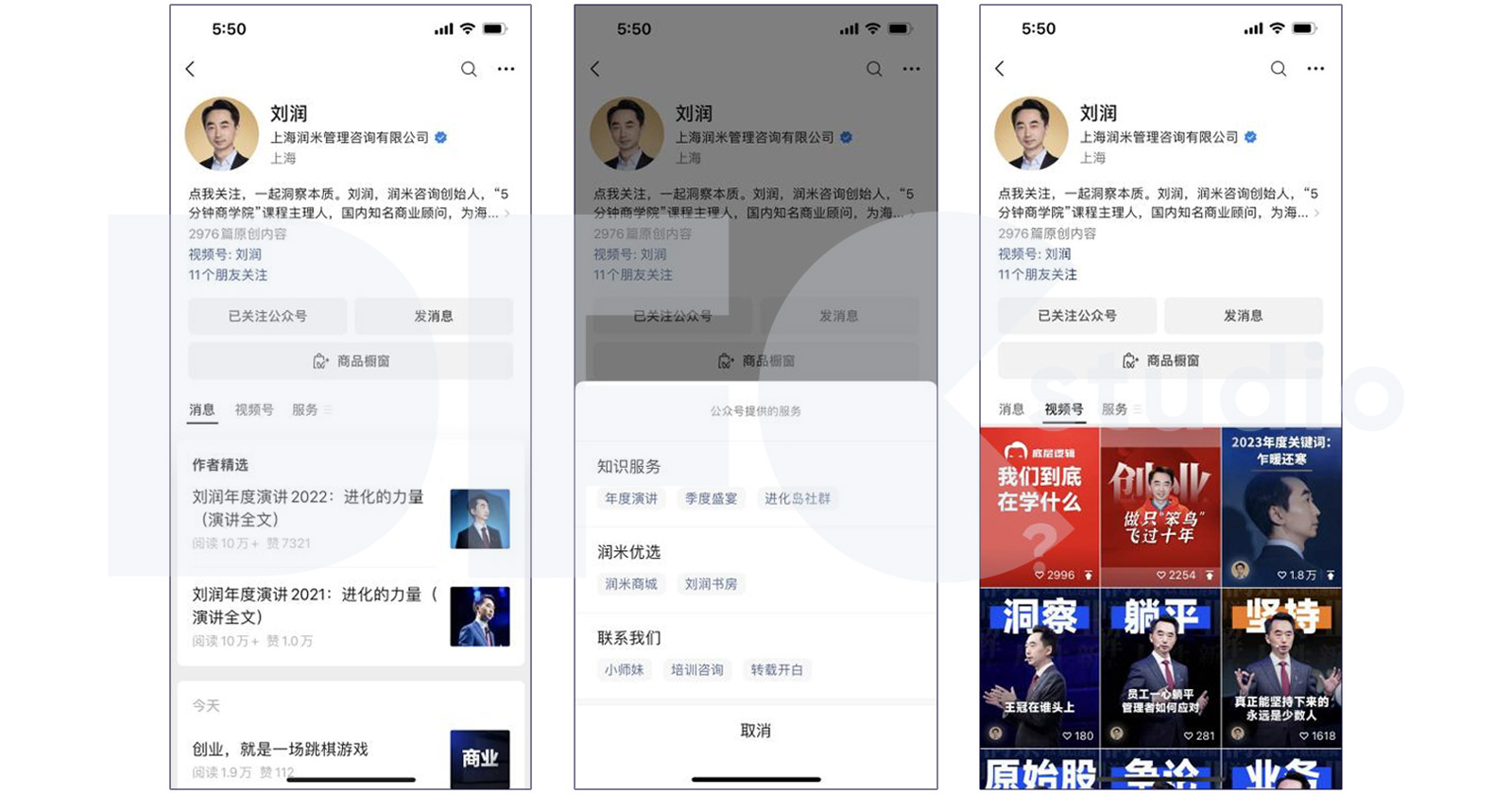 WeChat Official Account and WeChat Channel Layout
WeChat Channel Case 1: Product Tutorial
With the guidance provided in these videos, customers can easily complete the product installation process and gain a deeper understanding of the product's functions, features, and usage methods. Compared to lengthy and cumbersome written manuals, product tutorial videos prove to be a more effective solution.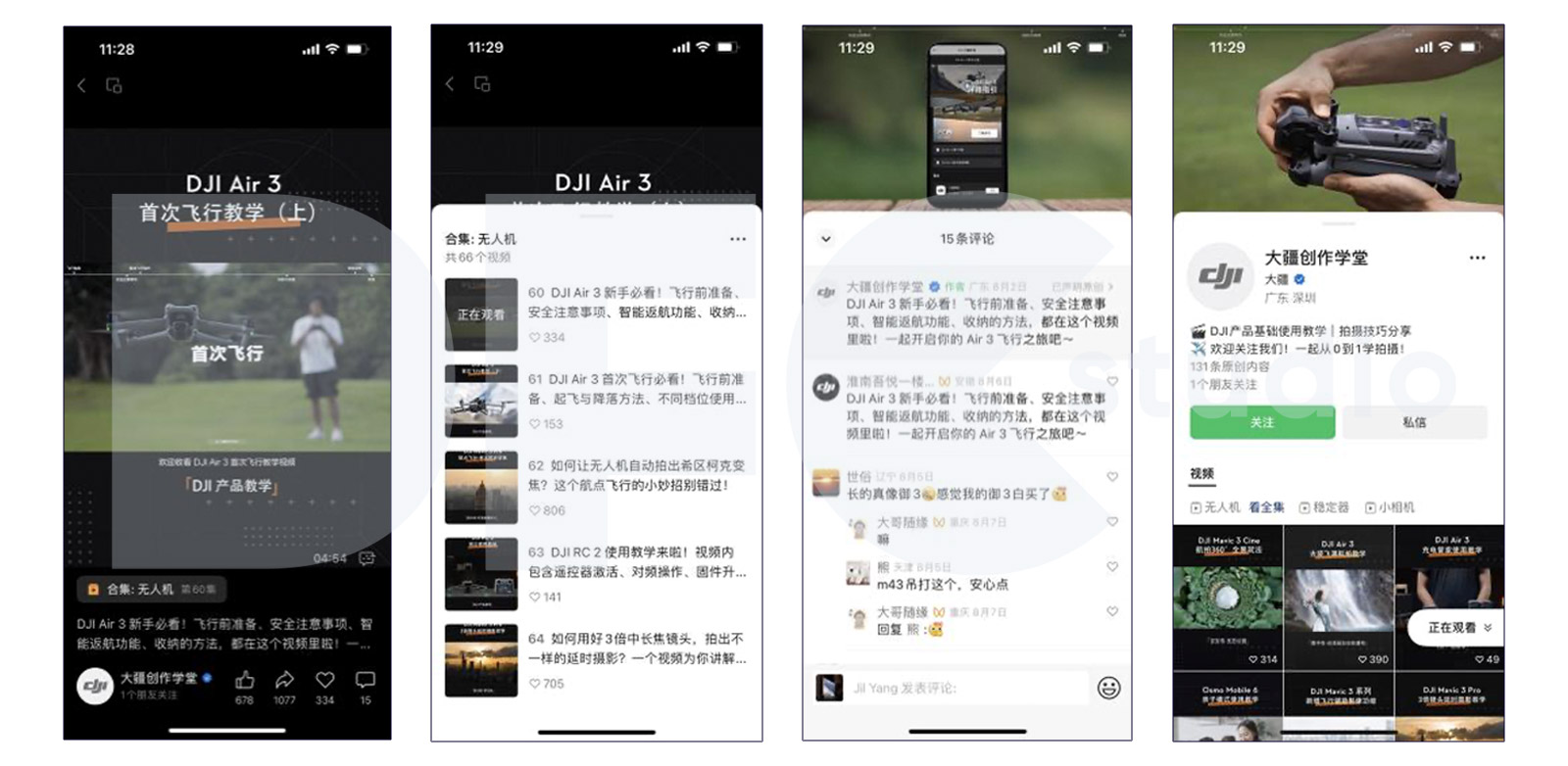 DJI Air3 first fly tutorial
WeChat Channel Case 2: Customer Review
Most potential customers place higher trust in user reviews; they prefer to avoid wasting time on generic self-promotional advertisements and are more interested in understanding the reputation of a product over time. Customer review videos act as a bridge connecting your existing customers with potential clients, fostering mutual trust and engagement.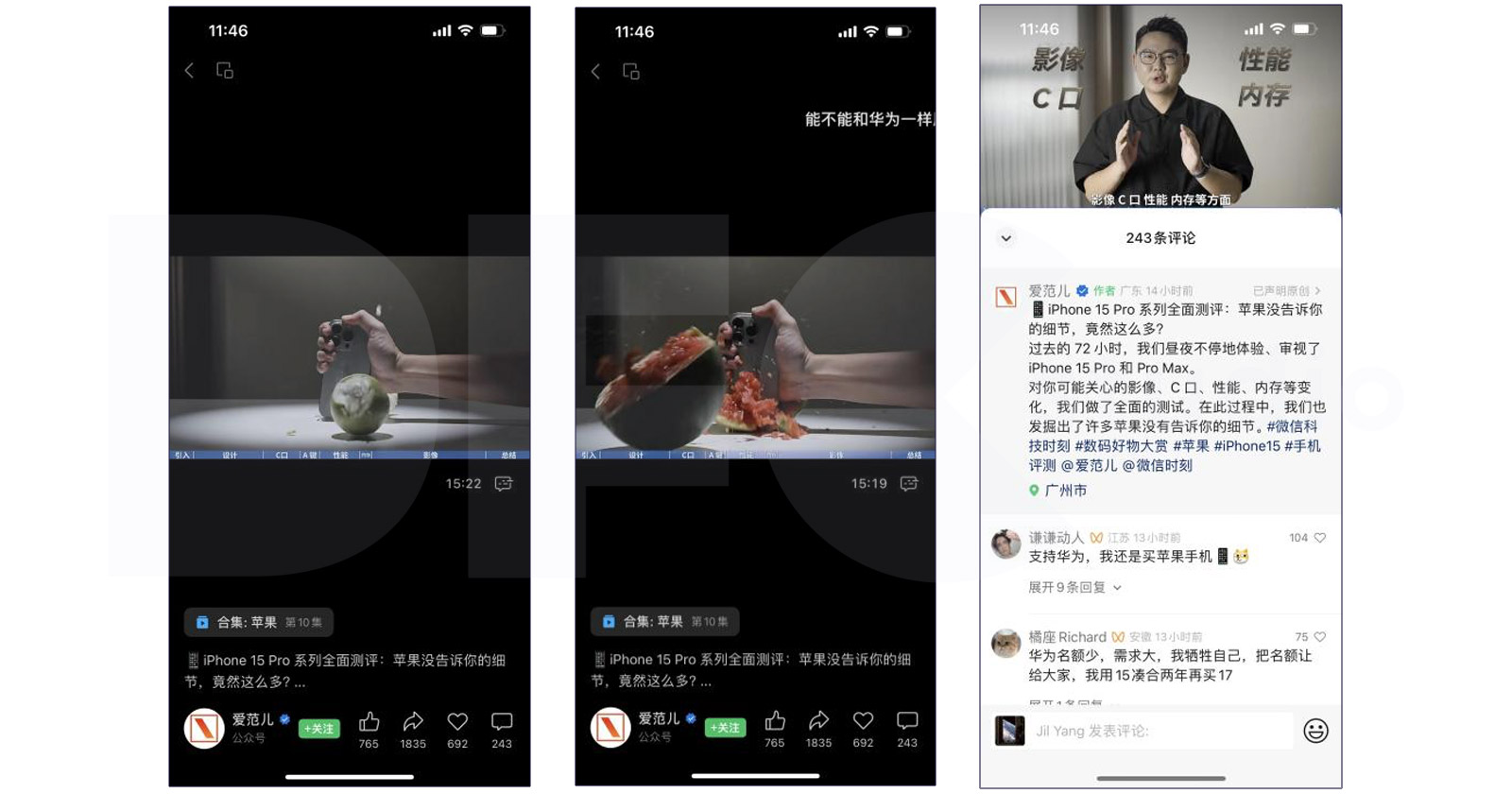 iPhone 15 Pro series testing video
WeChat Channel Case 3: Product Features
Product feature videos are very similar to the introductory tutorial videos discussed earlier, as they aim to enhance customers' awareness of product characteristics. However, they serve different purposes. Tutorial videos are primarily instructional, guiding customers in understanding the product, whereas product feature videos directly and explicitly showcase the product's unique attributes.
Huawei Watch 3 Features Video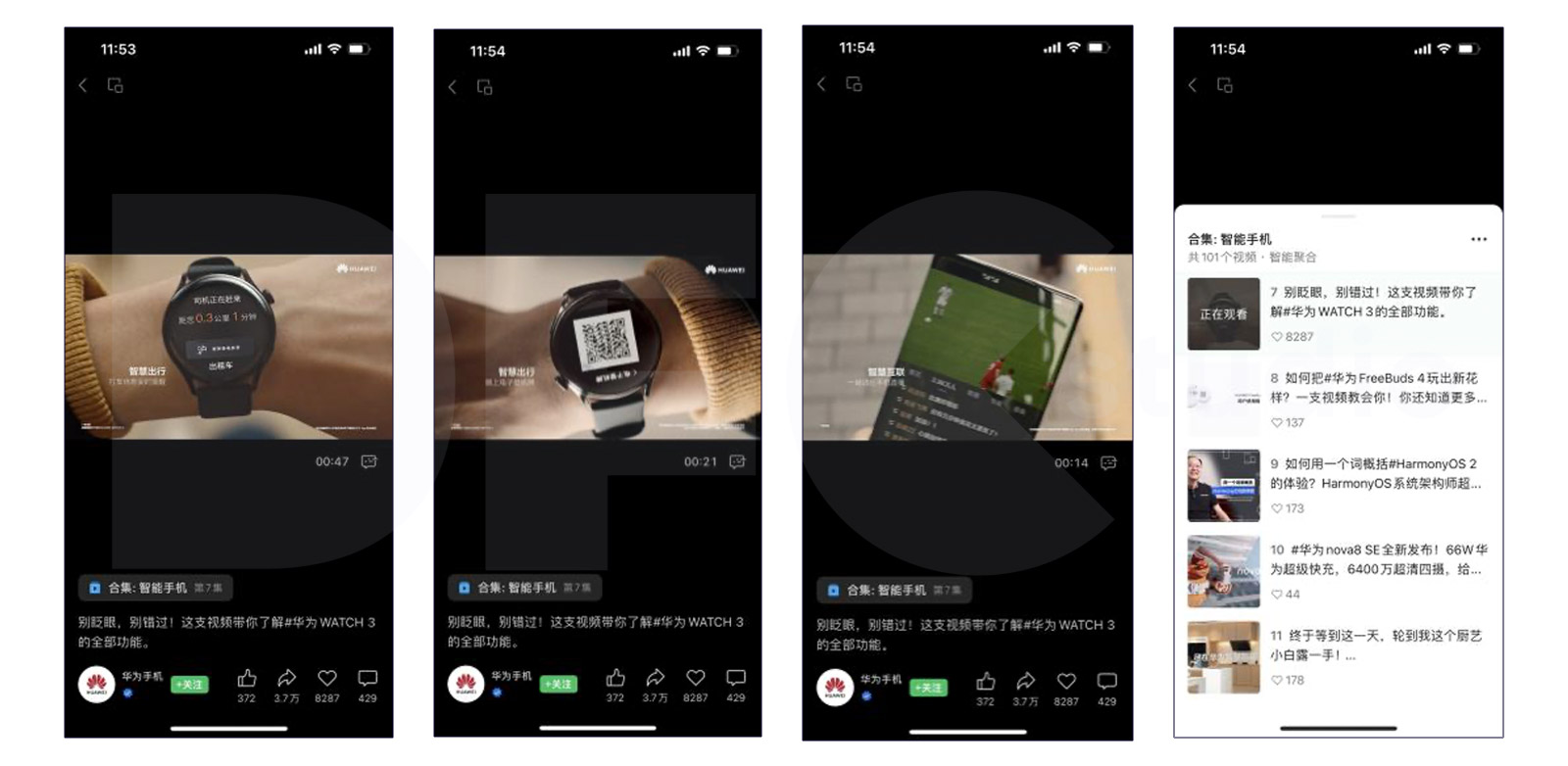 WeChat Channel Case 4: In-person explanatory video:
For customers struggling with a lack of understanding to the products. Creating in-person explanatory videos featuring real individuals is strongly recommended.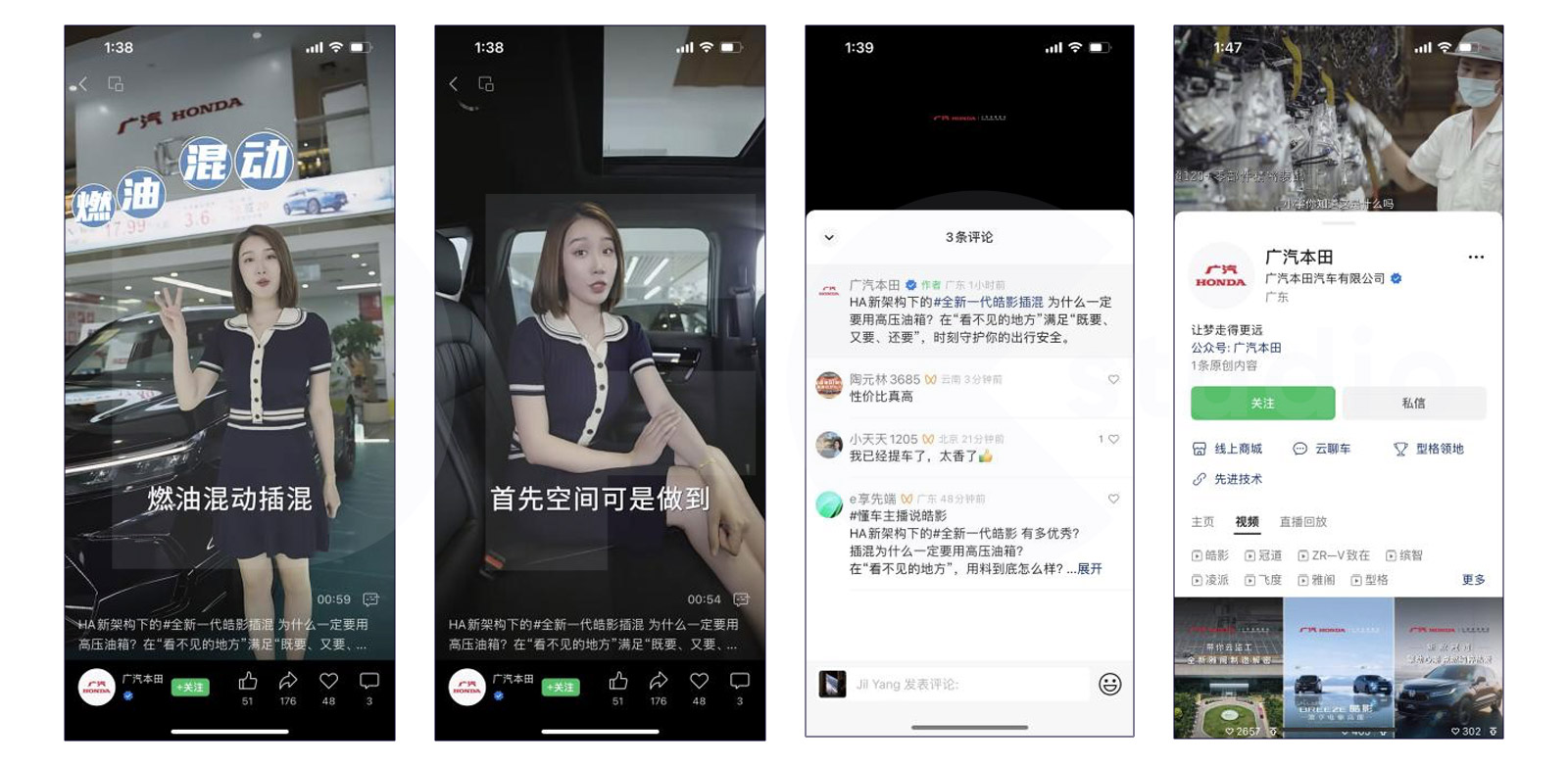 WeChat Channel Setup – Building Your WeChat Matrix
How to Open a WeChat Official Account ?
As is commonly known, WeChat Official Accounts can be categorized into Service Accounts and Subscription Accounts, each with its unique notification capabilities and functionalities.
Service Accounts possess stronger notification capabilities and are best suited for interactive and engaging content dissemination.

 

Subscription Accounts allow businesses to publish content daily and can handle a more extensive range of topics, making them suitable for high-frequency education and user guidance.

 
Setup Steps:
1. Log in to the WeChat Official Account platform, official website: https://mp.weixin.qq.com/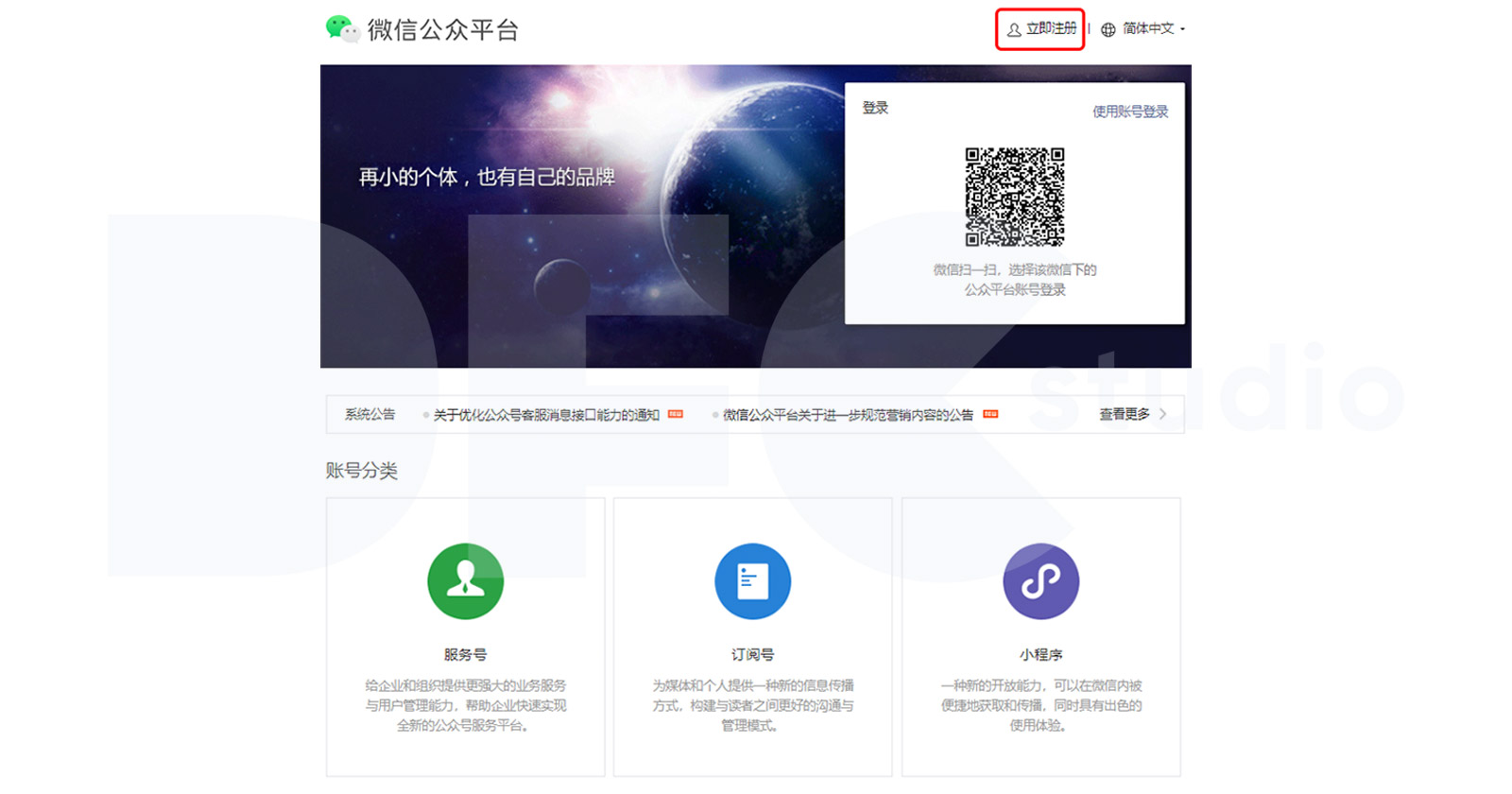 2. Enter your email address, log in to your email, check for the activation email, and enter the email verification code to activate.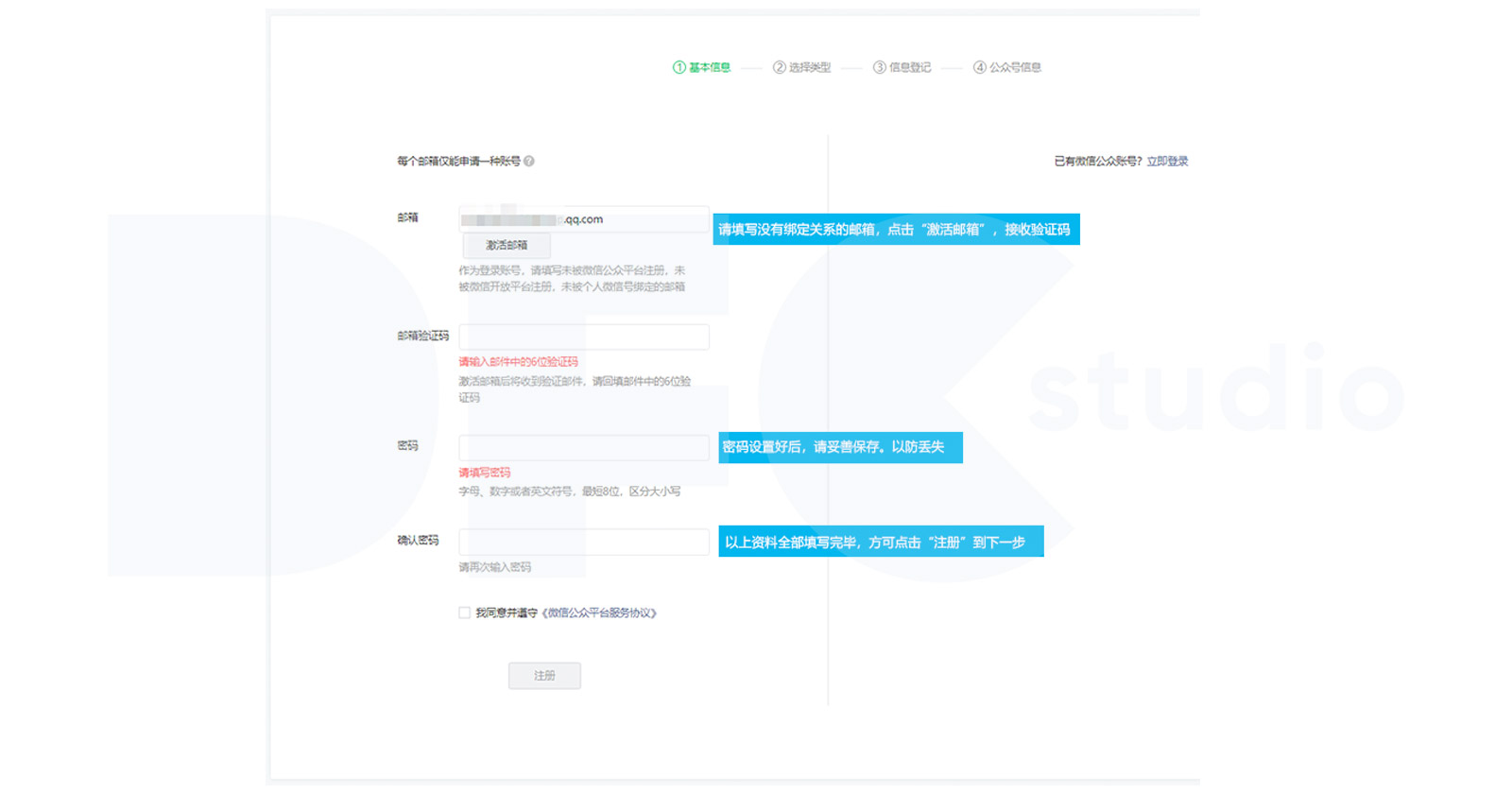 3. Choose the type and select the location of enterprise registration.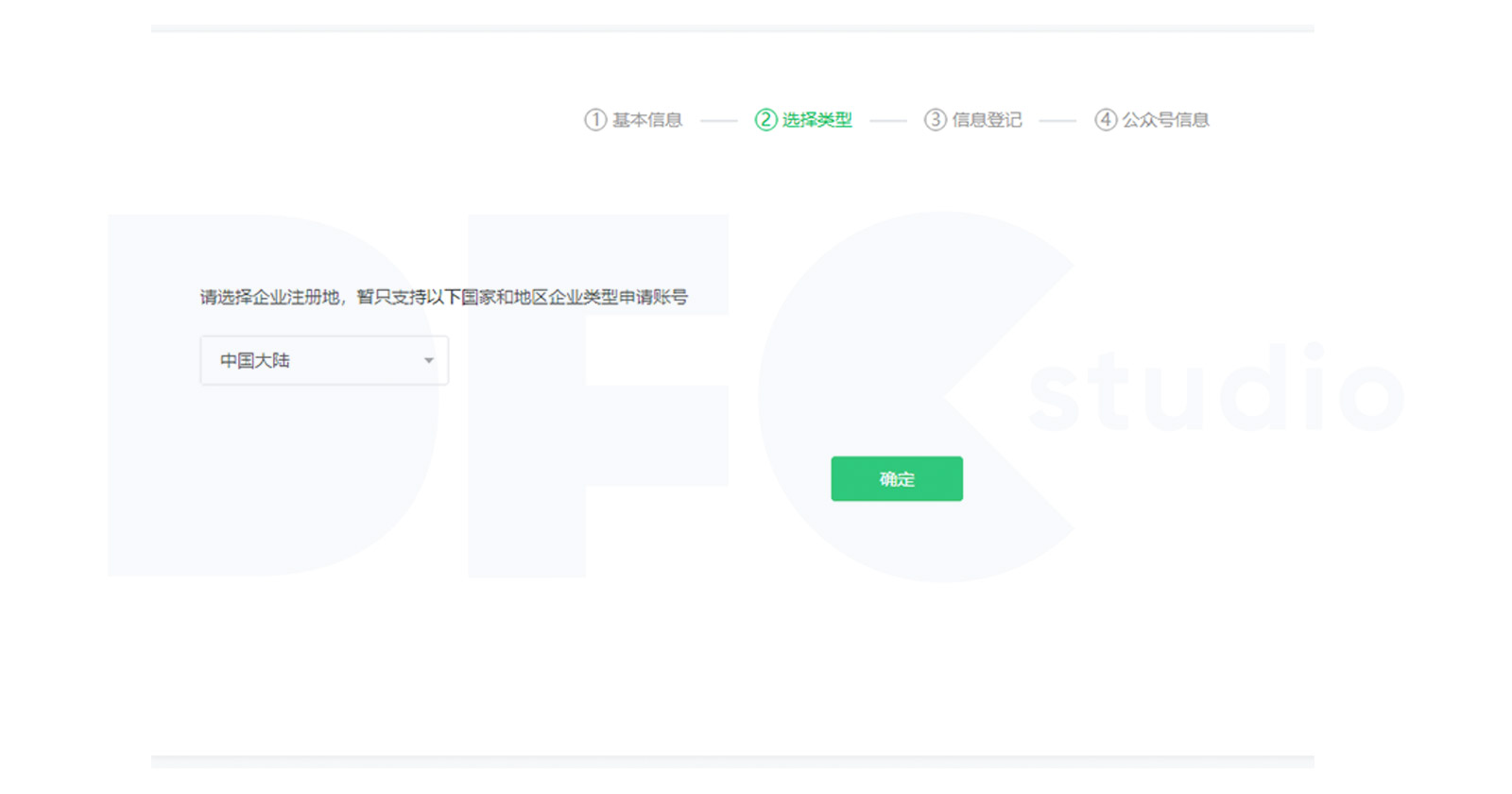 After understanding the differences between Subscription Accounts, Service Accounts, and Enterprise WeChat, choose the type of account you want.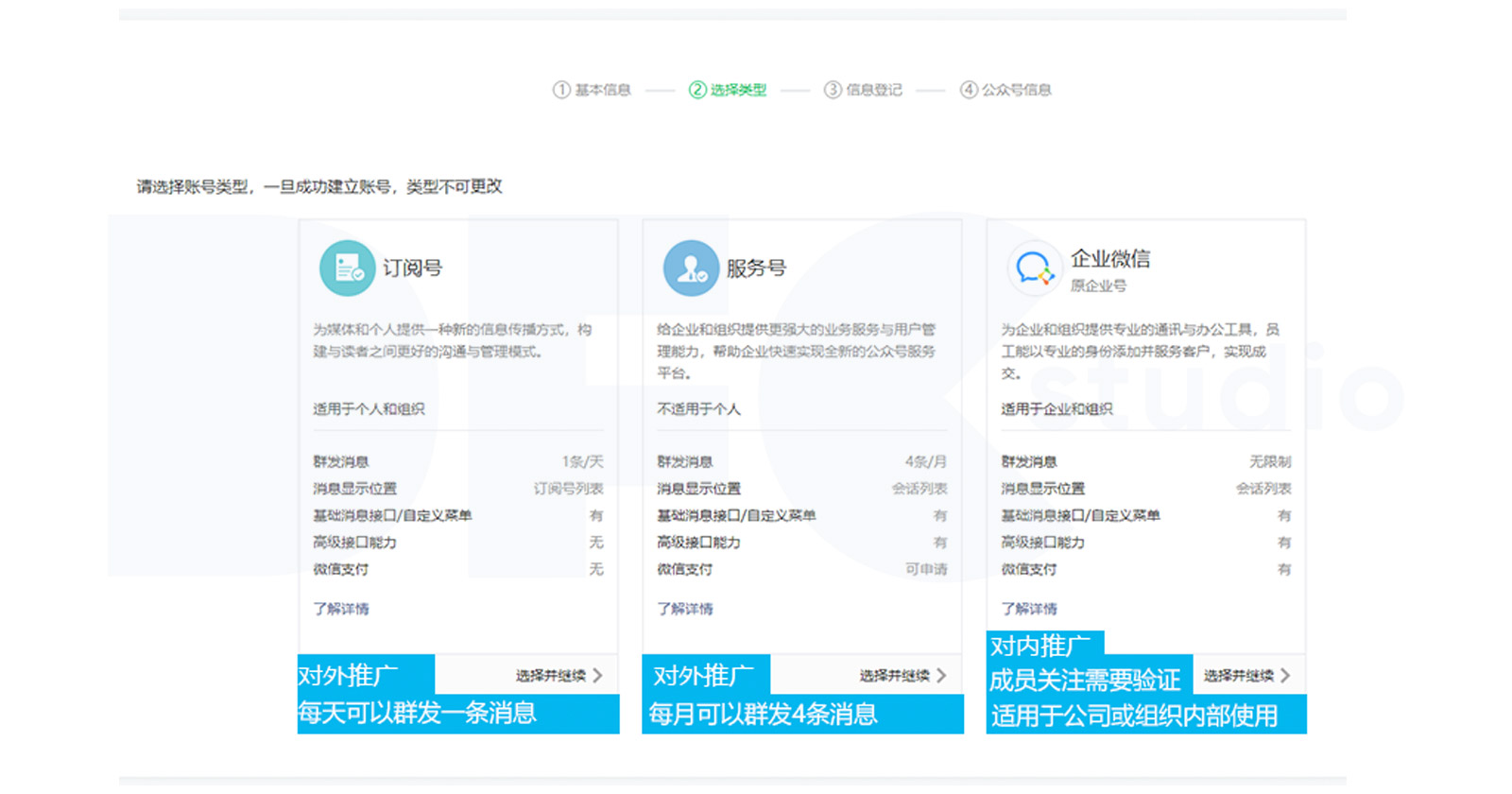 4. Information registration: ex. companies please remember to select 'Enterprise' -> 'Enterprise Type'.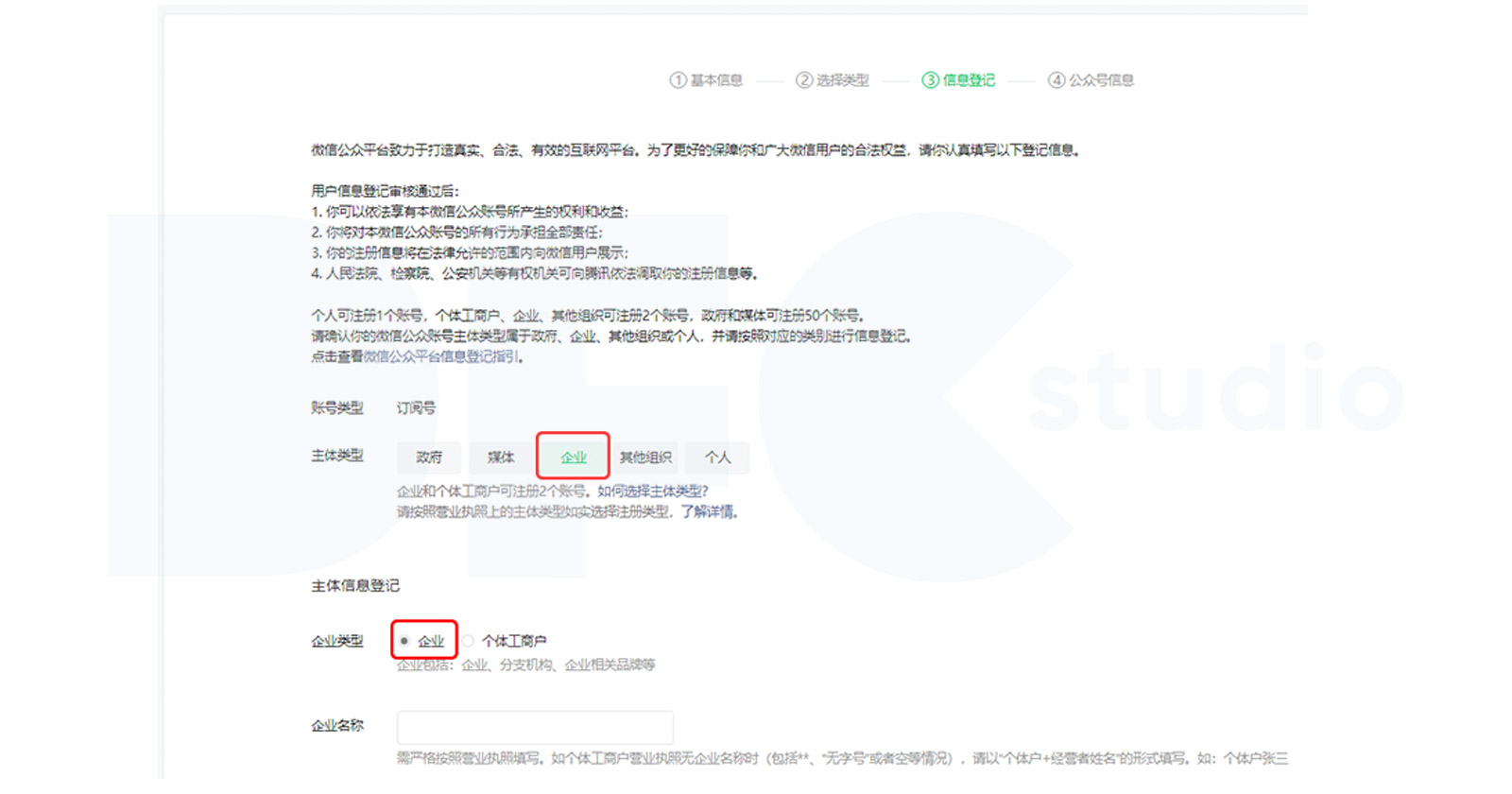 5. Fill in the relevant information: ex. 'Enterprise Type' – fill in the company name, business license registration number, and select the registration verification method, and so on.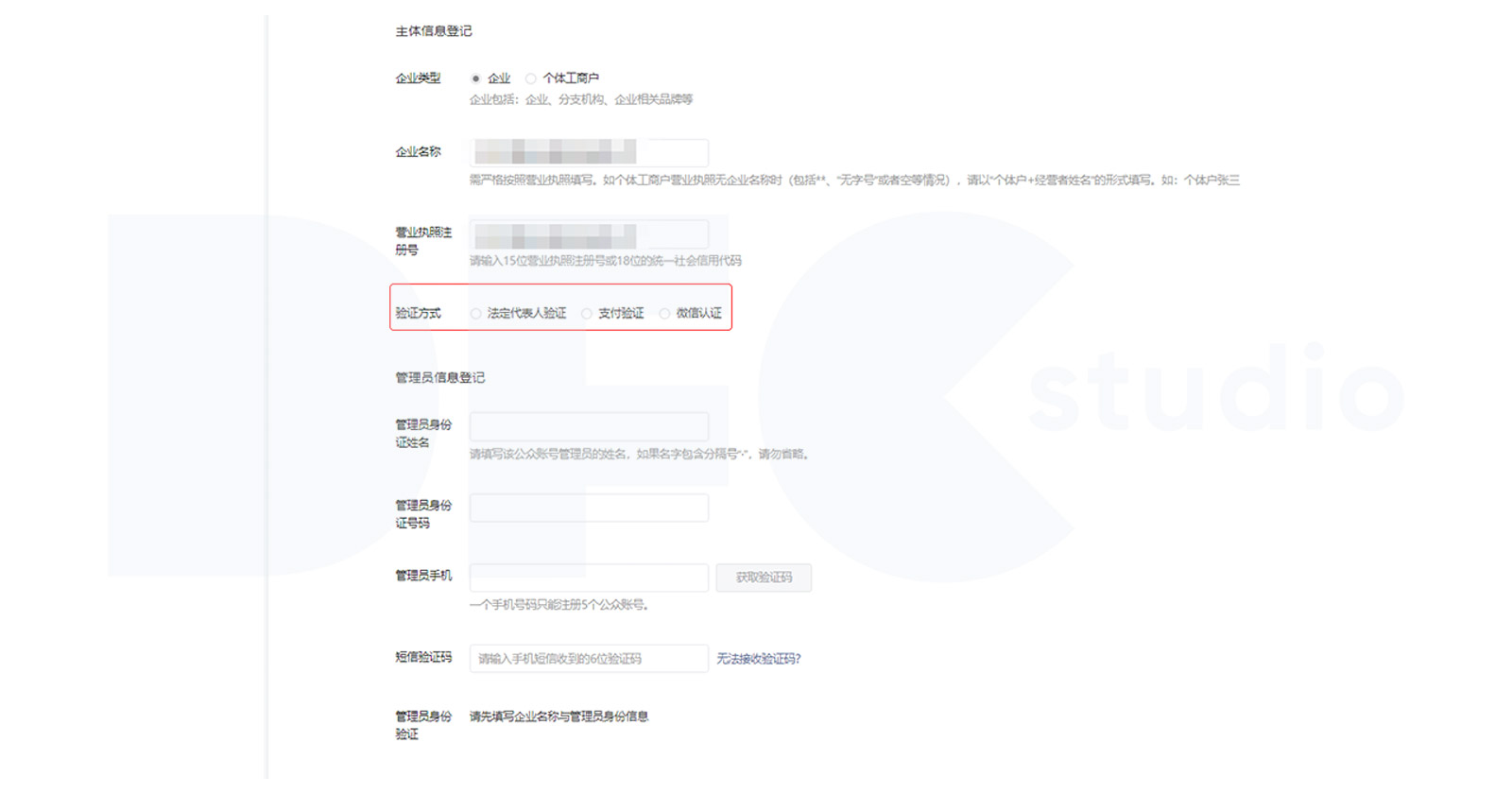 6. Fill in the account information, including the account name, and function description, and select the operating region.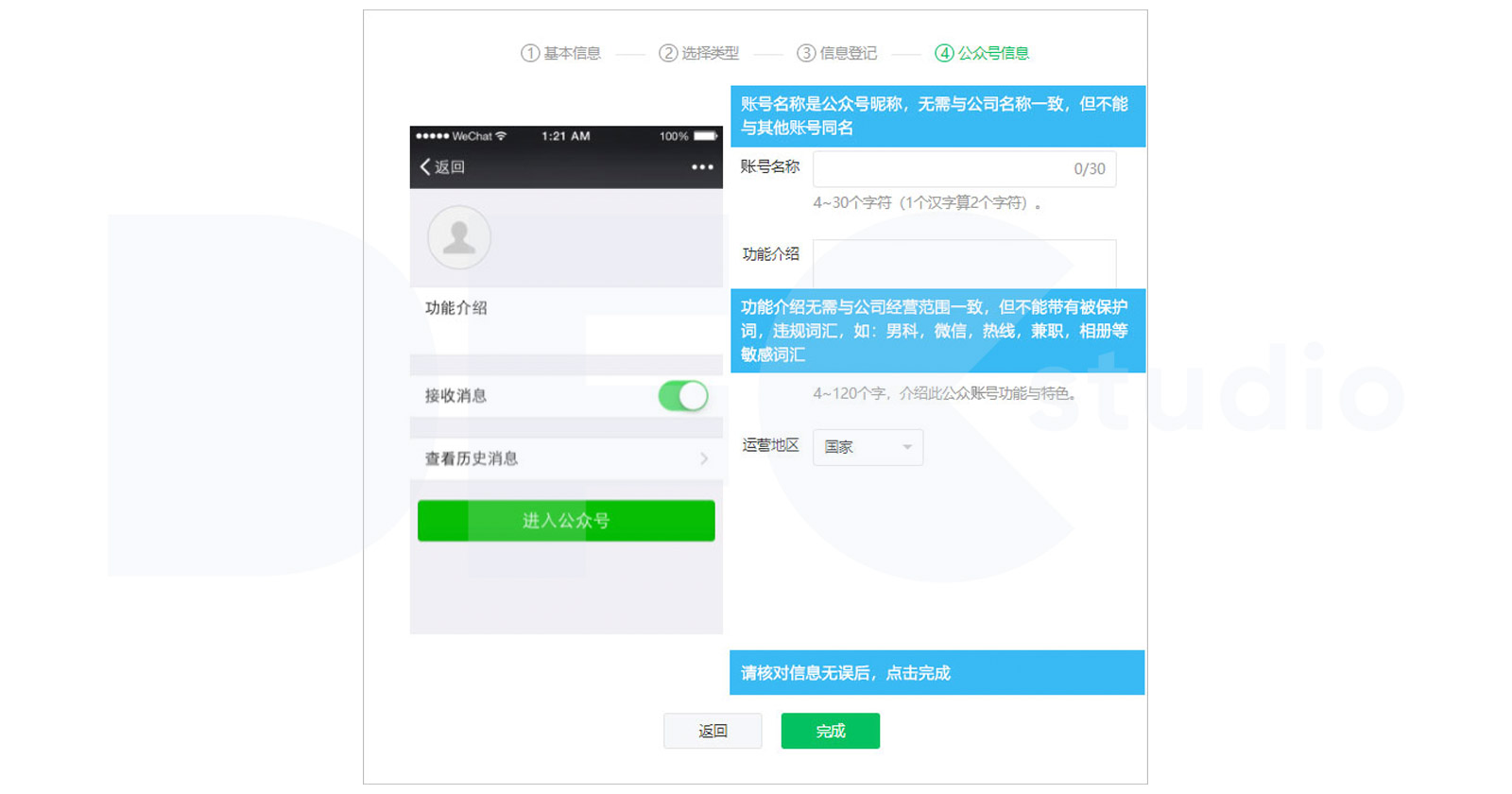 7. Complete the verification/authentication, and then the account can be used.
How to Open a WeChat Channel Account?
1. Open the Discover interface – find the Video Account option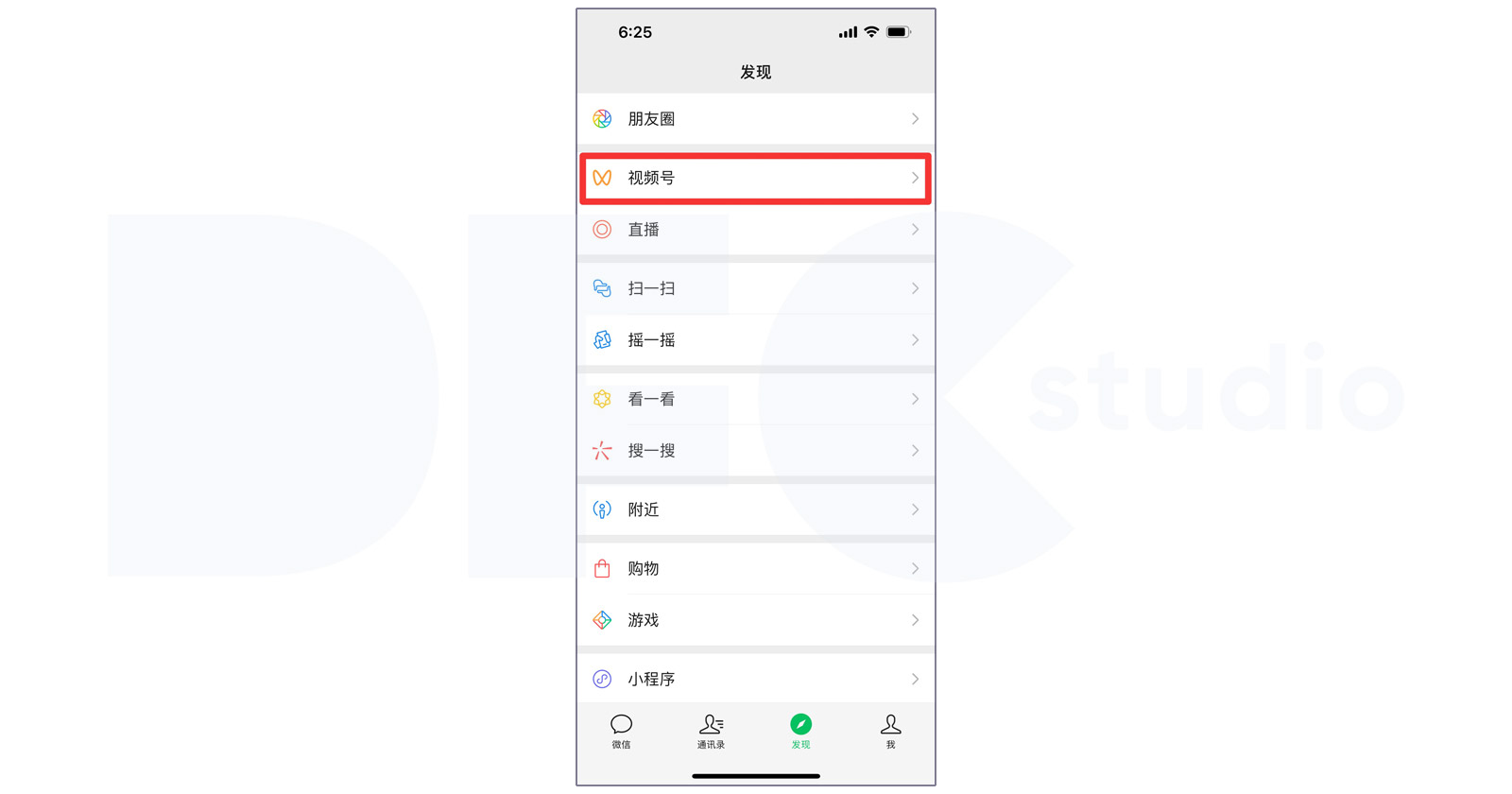 2. Click on the profile picture in the top right corner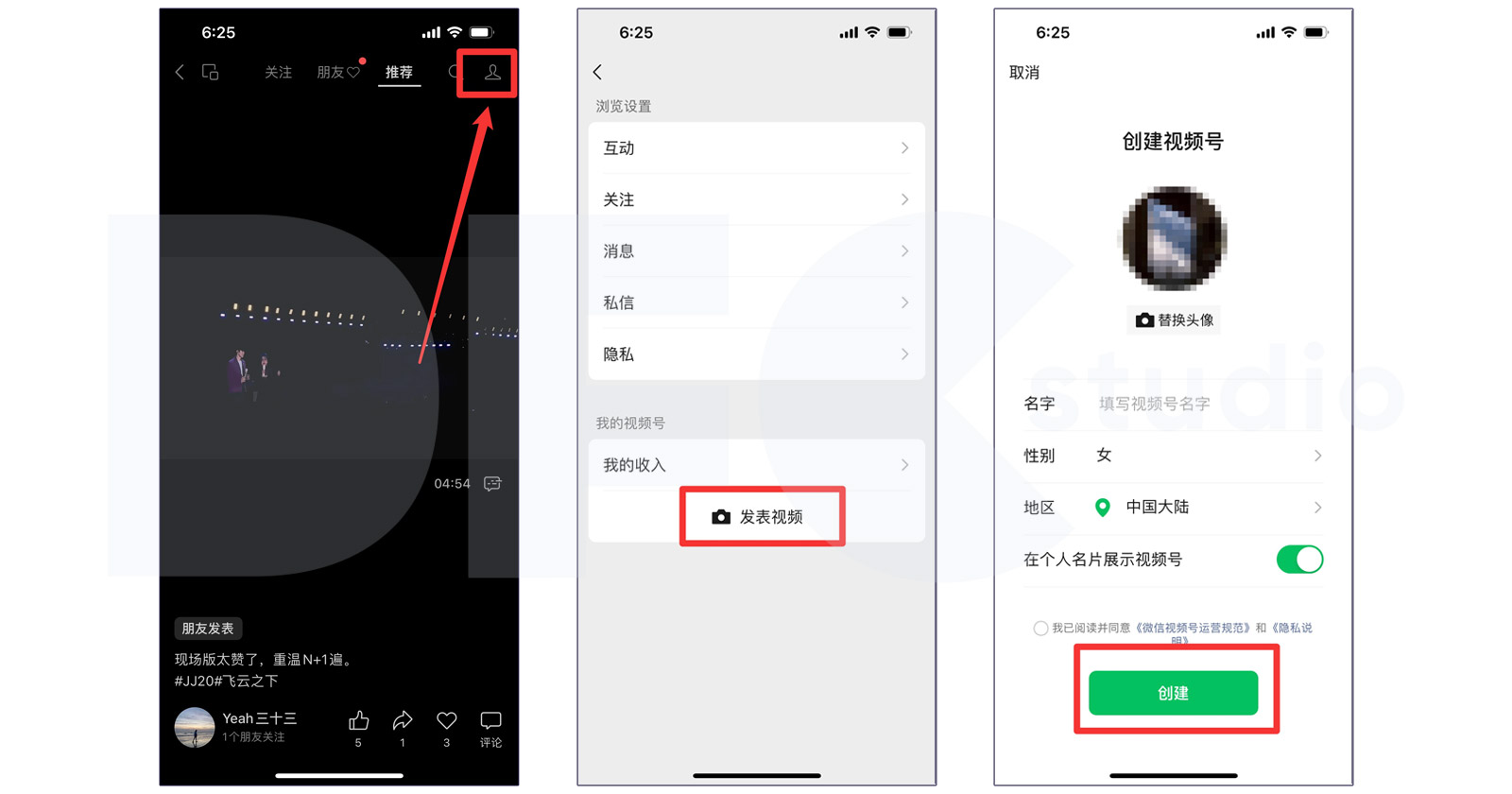 3. After you created your personal WeChat Channel, go to your profile, and find the certification entrance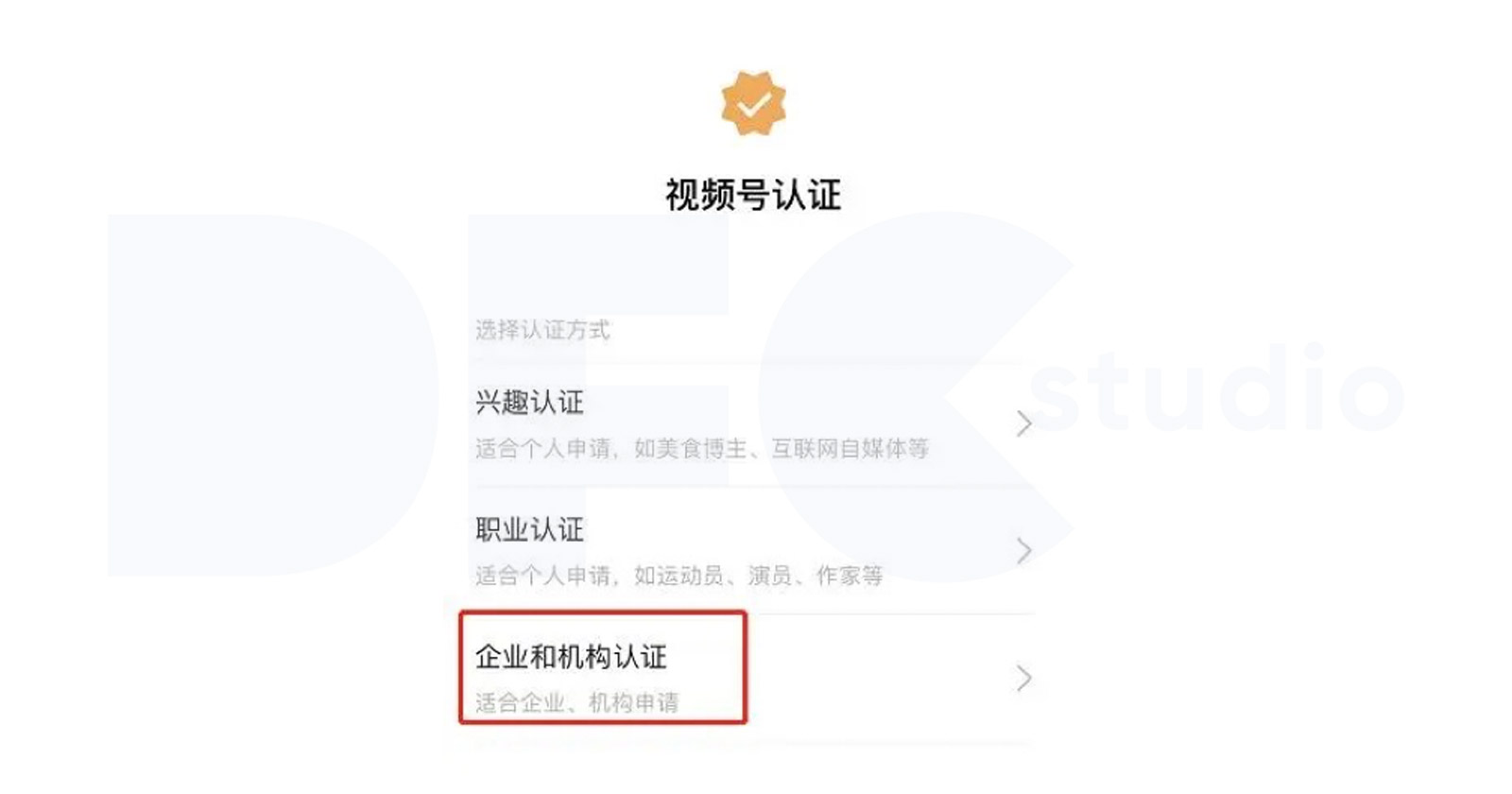 4. Choose "Enterprise and Organization Certification" – Bind an already certified corporate official account. (Enterprise certification requires having an already certified corporate official account)
Enterprise and Organization Certification Process
If you choose Official Account Assistant Certification, please note:
The Video Account must have the exact same name as the Official Account.
The Video Account certification application requires the main administrator of the corresponding Official Account to scan the QR code.
Official Account Assistant Certification: 
How to Bind WeChat Official Account with Video account?
Information Needed: WeChat Official Account (Admin or Operator), Video Account (Creator)
【First Method】Binding in WeChat Official Account Backend
The simplest method, of course, is to directly manage it in the backend of your WeChat Official Account. The prerequisite is that you must be an administrator (please note that it should be an administrator, not an operator).
On the homepage, you can find "Video Account Updates," click on it.

【Second Method】Binding the Video Account
Binding on the Video Account is relatively simple and can be done directly on your mobile phone, eliminating the need to switch between a computer and a phone for scanning QR codes. There are two ways to do this: through enterprise certification and direct binding.
Certification for Enterprise
This method is more suitable for businesses. If you manage a corporate account, then this method is recommended.
Steps:
Open WeChat on your mobile phone, go to the Video Account, and select "Profile" from the bottom menu.
Scroll to the bottom and find "Creator Center "
In the Creator Center, select « Certification."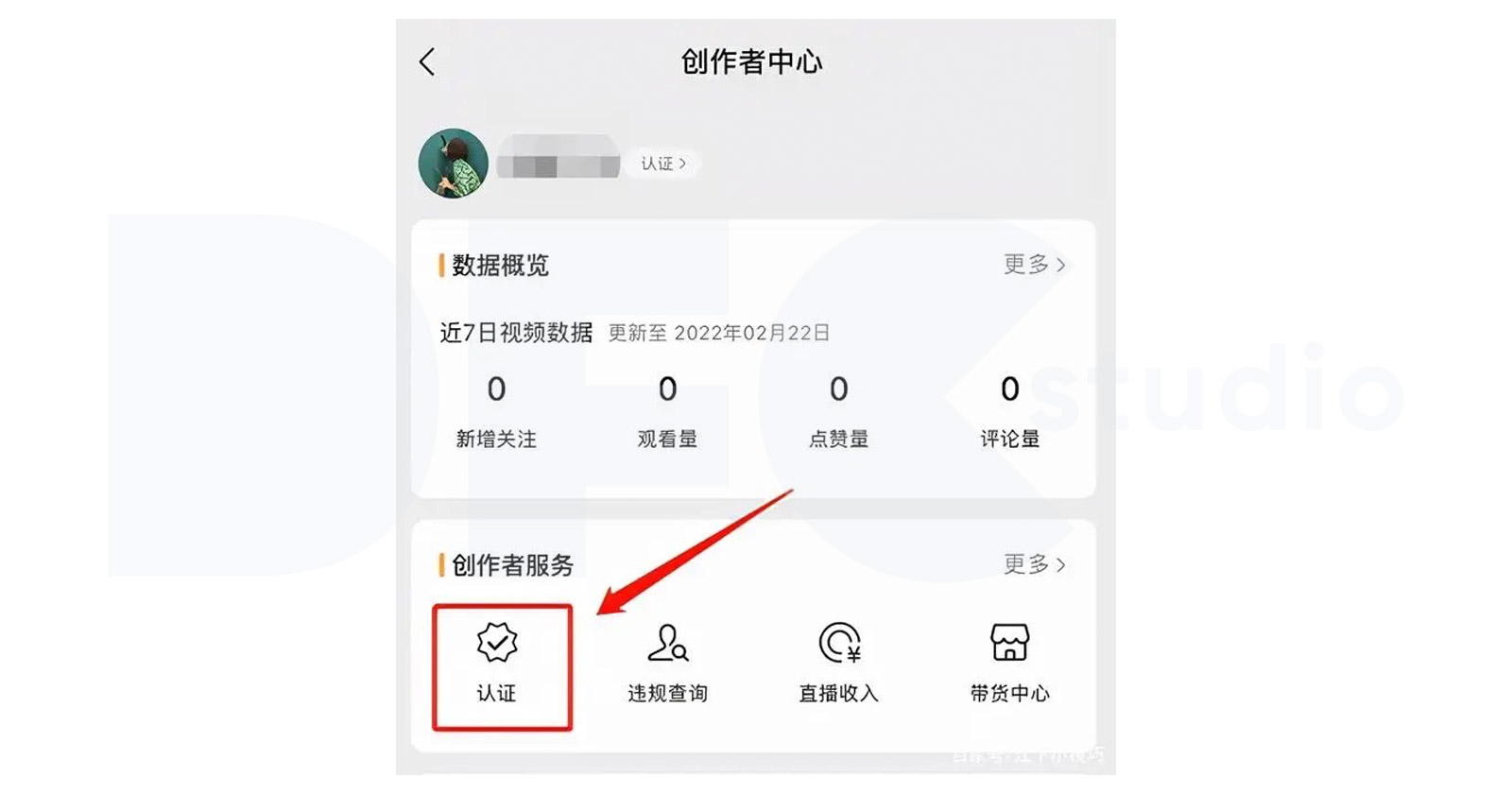 Next, choose "Enterprise and Organization Certification."
Click on "Official Account Assistant Certification."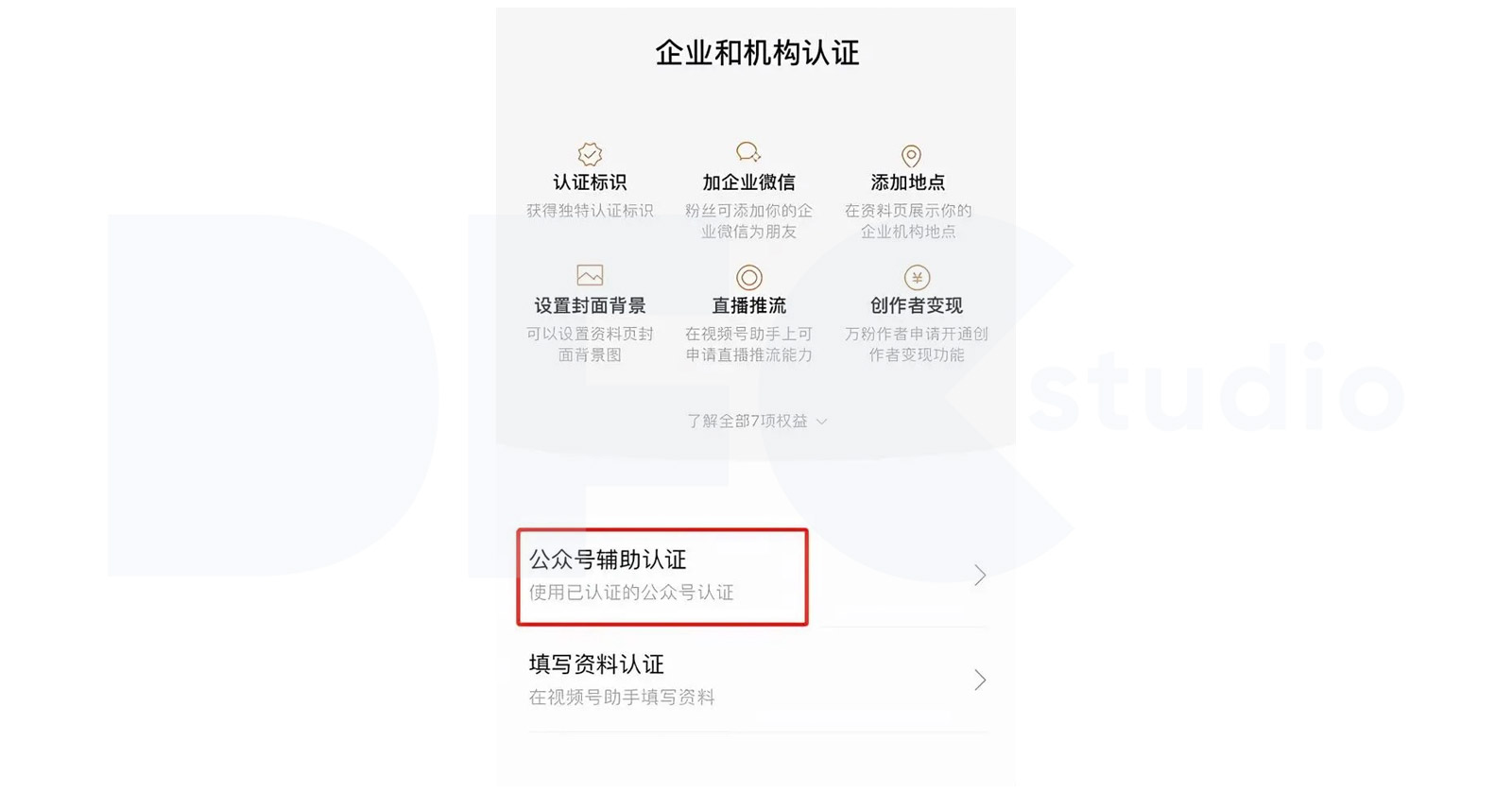 The administrator of the WeChat Official Account needs to scan the QR code. If you are the administrator, simply click "I am the Official Account Administrator."
Advantages you gain after binding the Official Account and Video Account:
The Video Account profile page will display the Official Account.
The Official Account profile page will display the Video Account and Video Account videos.
When the Video Account starts live streaming, Official Account followers will see a "Live" status on the Official Account.
The Video Account live streaming room and video details page will display the Official Account's identity, and viewers can follow the Official Account in the Video Account context. You can disable this feature in "Video Account – Account Settings" or "WeChat Official Account."
For example: When users open the Official Account, they can see information about the Video Account.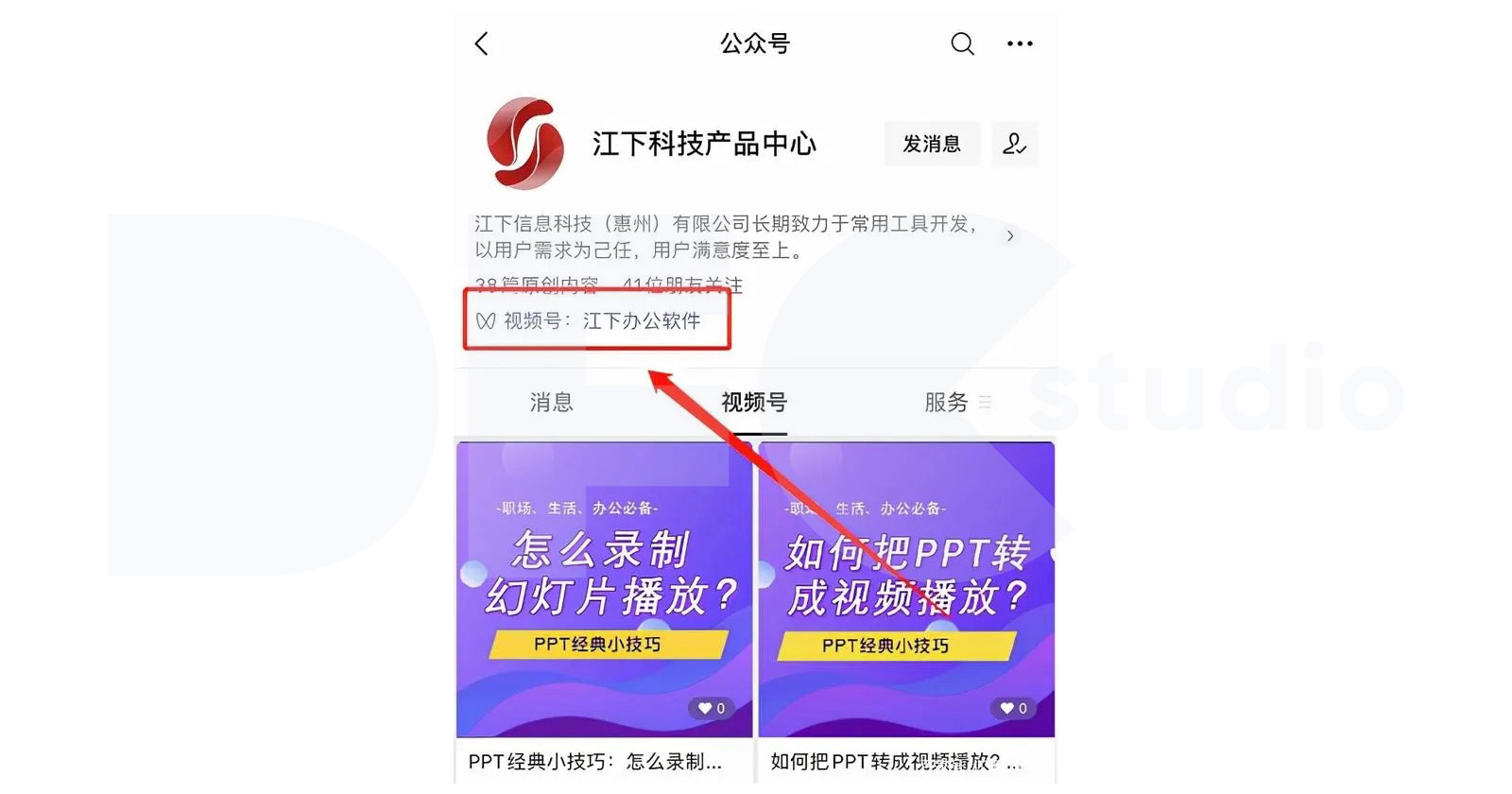 On the Video Account, they can see information about the Official Account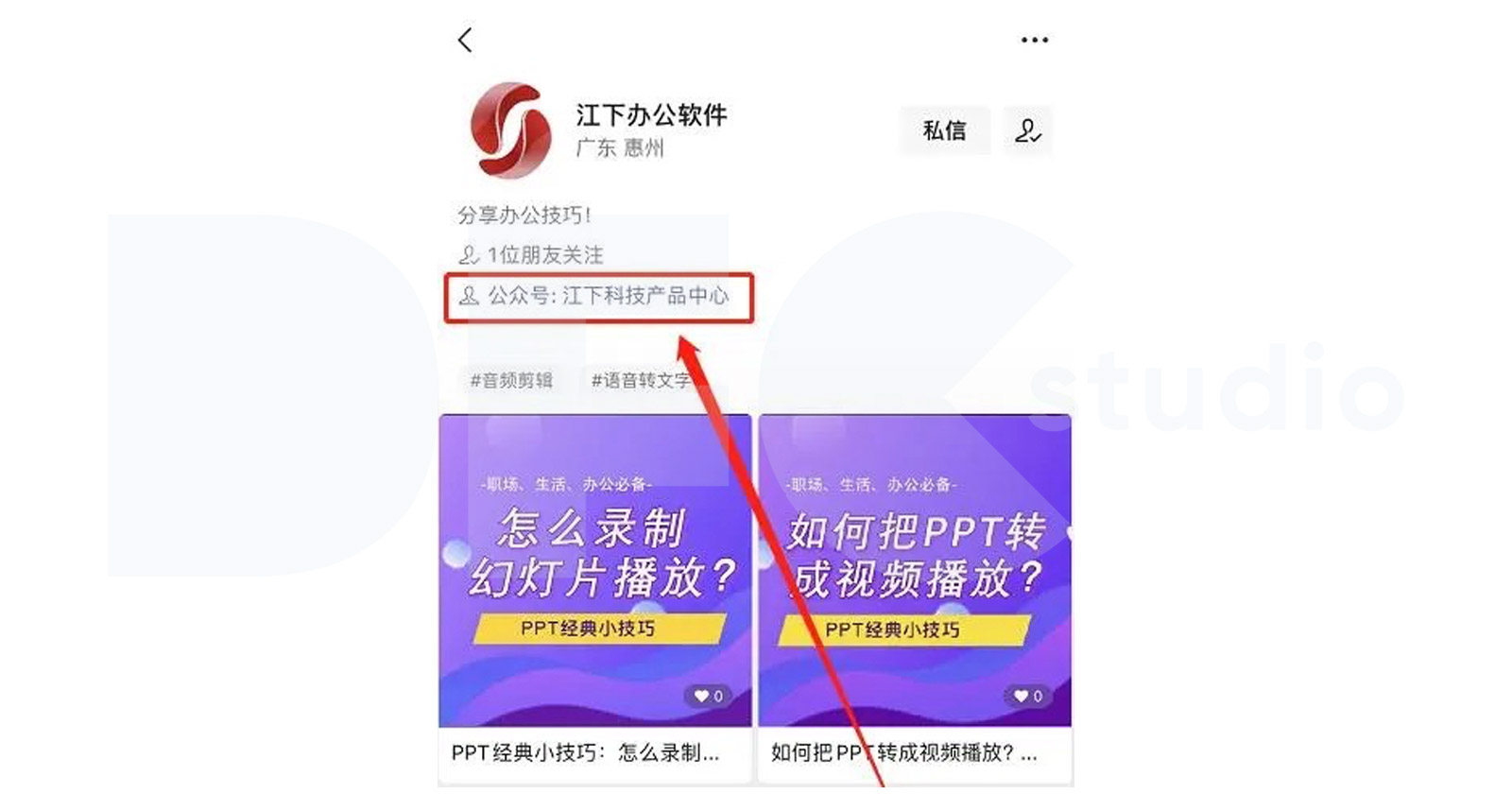 Start to Publish: Crafting Your Content – Popular Videos Types
We organized and summarized a collection of popular video types that might help you to create your own.
Type 1: Product Tutorial
The key to product tutorial videos lies in providing simple and practical explanations of the product. The content should be straightforward and easy to understand, making it effortless for customers to grasp every essential aspect. What truly matters to customers is how to quickly get started and use the product effectively.
Through video tutorials, customers can swiftly gain practical knowledge of your product's core features. This elevates the customer's learning experience to a higher level, allowing them to personally experience the technological innovations and core values your product offers. This, in turn, opens up more possibilities for brand retention in the future.
Type 2 : Customer Review/In-Person Explanatory Video
Videos that friends will potentially recommend after watching often contain two key elements:
1. Avoid Rigidity: The true strength of customer review videos lies in harnessing your key customers to communicate the brand's value. If you have your customers mechanically read pre-written scripts, it will undermine the primary advantage of recommendation videos.
2. Highlight Product Benefits: While customers don't need to rigidly recite your product's advantages, the essential focus of the video should not be neglected.
Customer review videos often eliminate the monotony of traditional brand promotion, enabling your existing customers to connect with potential clients. This is an effective video marketing strategy that not only helps potential clients better understand their needs but also elevates your product's strengths through practical assessments by current users.
Type 3 : Product Features
There are two key aspects to consider when creating product feature videos. Firstly, it's essential to clearly identify the key highlights. This is crucial because the entire video content will revolve around these highlights, forming the core foundation of video creation. Secondly, the manner in which these highlights are presented becomes equally significant once you have determined the content you wish to convey.
Type 4 : Knowledge Related Live-streaming Cut in Short-video form
Live-streaming is a popular format of online digital media, and as loyal subscribers to certain field or certain WeChat Channel, video with valuable or interesting information is always a go-to for readers to like or share. Easy to view, easy to get the point.
Type 5 : Lifestyle/Entertaining Videos
This type of videos are easy for common public viewers to understand and share. Often popular across all short-video platforms.
If you would like to know more about the strategy of WeChat Channel and WeChat Video, please fill out your email to get a free whitepaper for your use. You may also arrange a short call with us so we can talk through your goal in order to have an efficient experience.
Get a free copy of our China : Essential basics to know E-book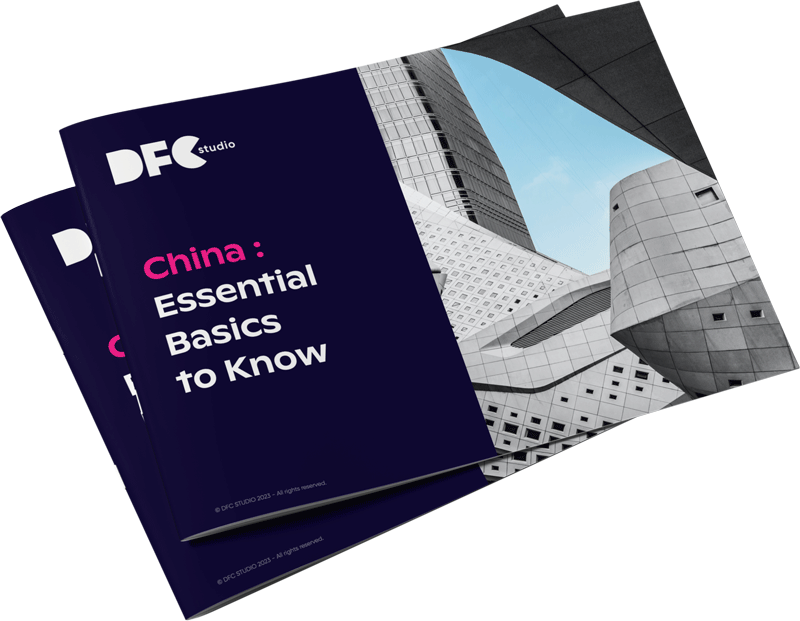 Get a free copy of our China : Essential basics to know E-book