Getting Started with Baidu: A Complete Guide to Promoting Your Services in China
Discover how Baidu can be leveraged to bolster your digital presence in China and reach an ever-expanding audience, all in order to grow your business quickly in China and increase your revenue.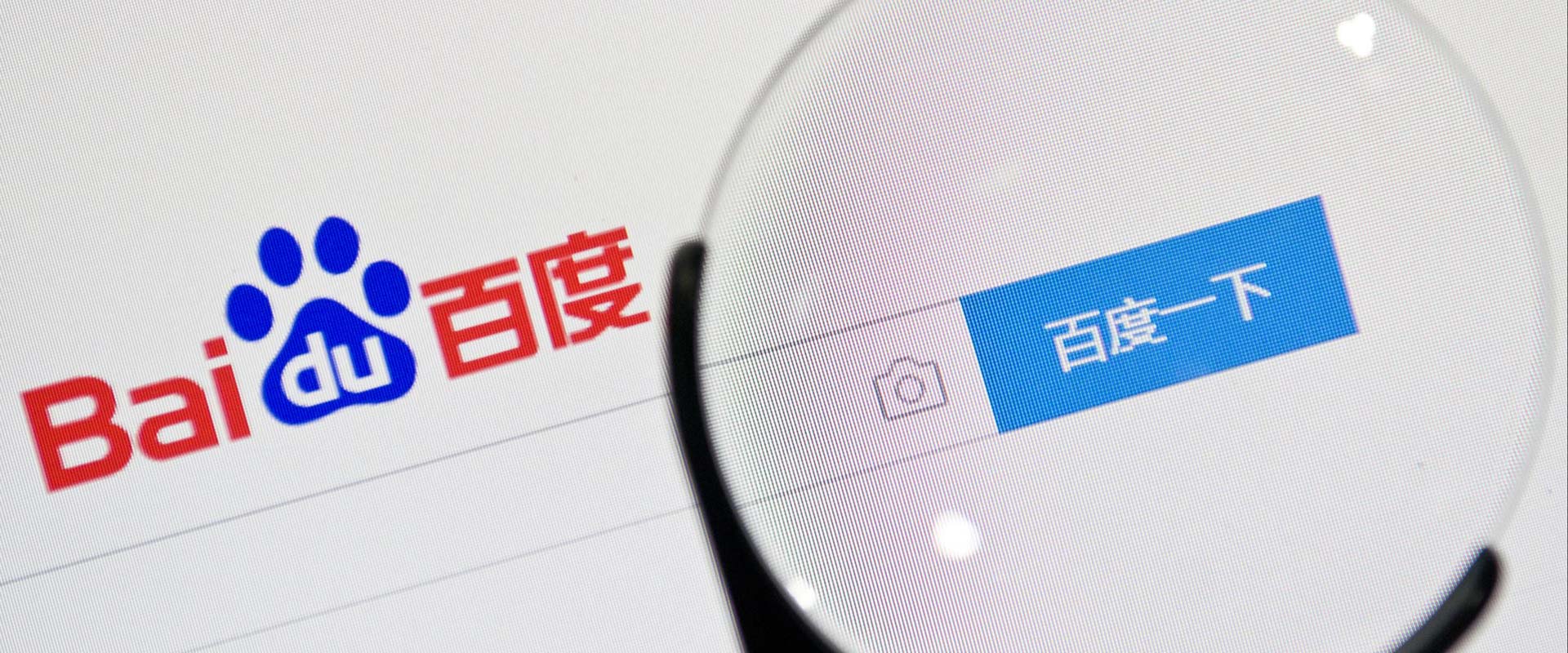 When expansion into China is on the agenda for companies, a comprehensive understanding of Baidu, the country's foremost search engine, is deemed essential. In this exploration, Baidu takes center stage, providing companies with a comprehensive insight into this significant player in the Chinese market. 
What is Baidu?
Baidu, originally a search engine company, is a large internet corporation and one of the early pioneers in internet advertising. Baidu offers businesses a unique opportunity to reach out to potential customers in China. It's an effective way to promote your products or services, and with over 1 billion active users, it's a platform that you can't afford to ignore.
Paid internet advertising began commercializing around the early 2000s, primarily leveraging Baidu's ability to capture proactive customer search behavior. Its significant core competitive advantage lies in the ability to target keywords based on extensive search ads, making it highly suitable for those considering bidding on information flow.
Baidu's information flow advertising relies on data collected from search engine users, encompassing a broad spectrum of demographics due to the precision of search data. This extensive demographic coverage across different age groups significantly broadens Baidu's adaptability in the advertising industry, enabling information flow ads to precisely define potential customer profiles and data models for businesses.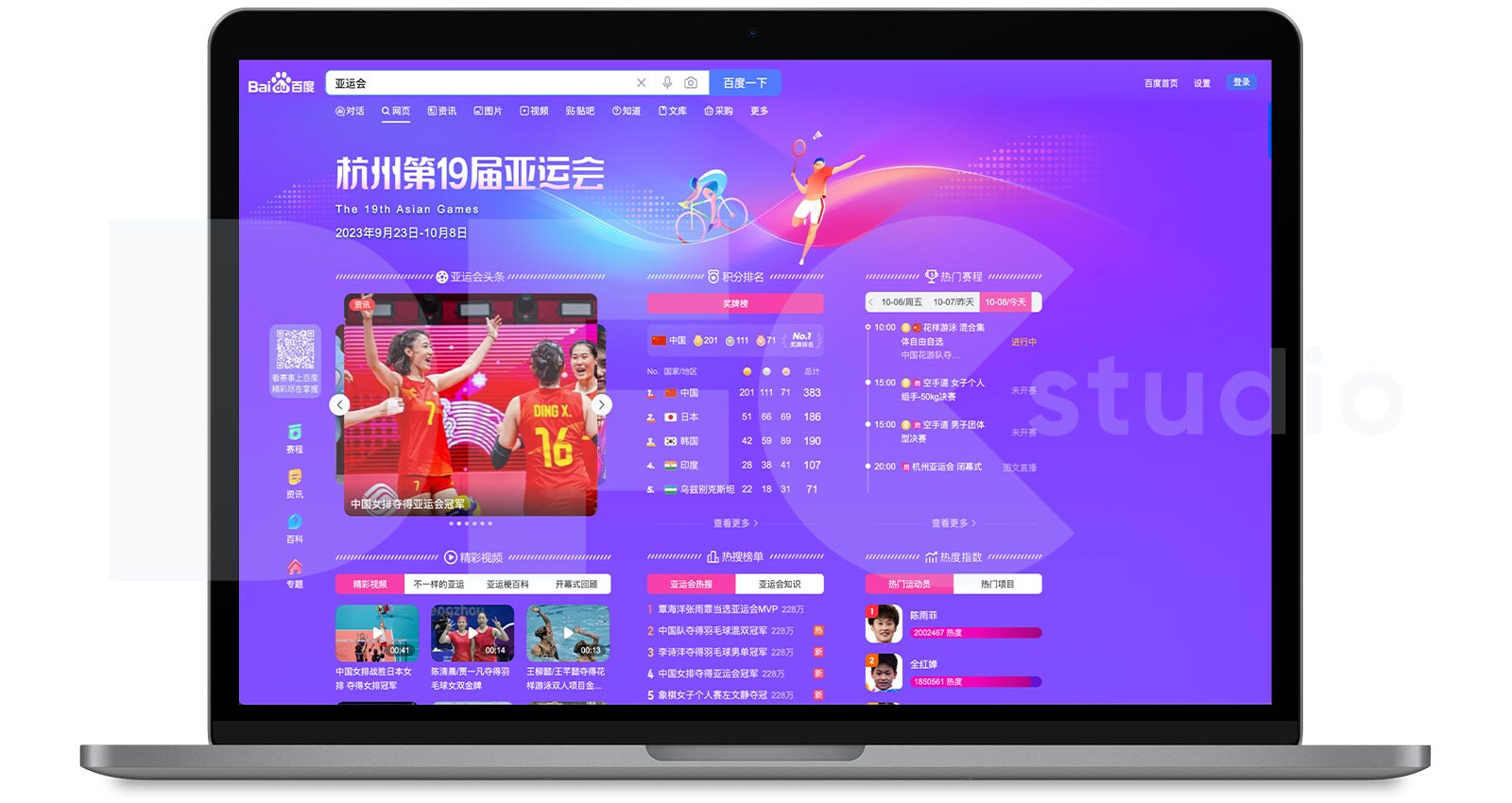 Why Should You Do Baidu Advertising?
What is Baidu Ads and Pay-Per-click :
Baidu Ads and PPC (pay-per-click) are one of the most effective ways to reach new customers on the internet via paid search. Baidu, the most popular search engine in China, offers a comprehensive and powerful PPC platform that can help you get your business in front of millions of potential customers. Baidu is the dominant player in China, accounting for 70% of the market share.
The cost-per-click (CPC) for keywords on Baidu is generally much lower than on other comparable platforms. This makes it a great option for businesses with limited marketing budgets.
Baidu advertising is a promotion method that uses search engine optimization (SEO) and search engine marketing (SEM) techniques to improve a website's ranking in search engine results. It aims to attract more traffic and enhance brand awareness and business growth. 
Advantages of Baidu Advertising
High Conversion Rates: Baidu is China's largest search engine, where users can find a wide range of information. By utilizing Baidu advertising, your company's ads can appear on the first few pages of search results, increasing traffic, and therefore increasing conversion rates.
Precision Targeting: Baidu advertising allows for precise targeting based on user search keywords, which means your ads are shown to users who are most likely to make a purchase, thereby improving ad effectiveness.
Effective Tracking and Analysis: Baidu advertising provides detailed reporting and analysis tools, enabling your company to track and analyze the performance of your ads, which allows for timely adjustments to your advertising strategy.
Boost Brand Awareness: Baidu advertising can increase your brand's exposure on search engines, ultimately raising brand awareness among users.
Cost Savings: Baidu advertising offers flexible bidding options that can be adjusted according to your company's budget and goals, which is easily applied to a lot companies.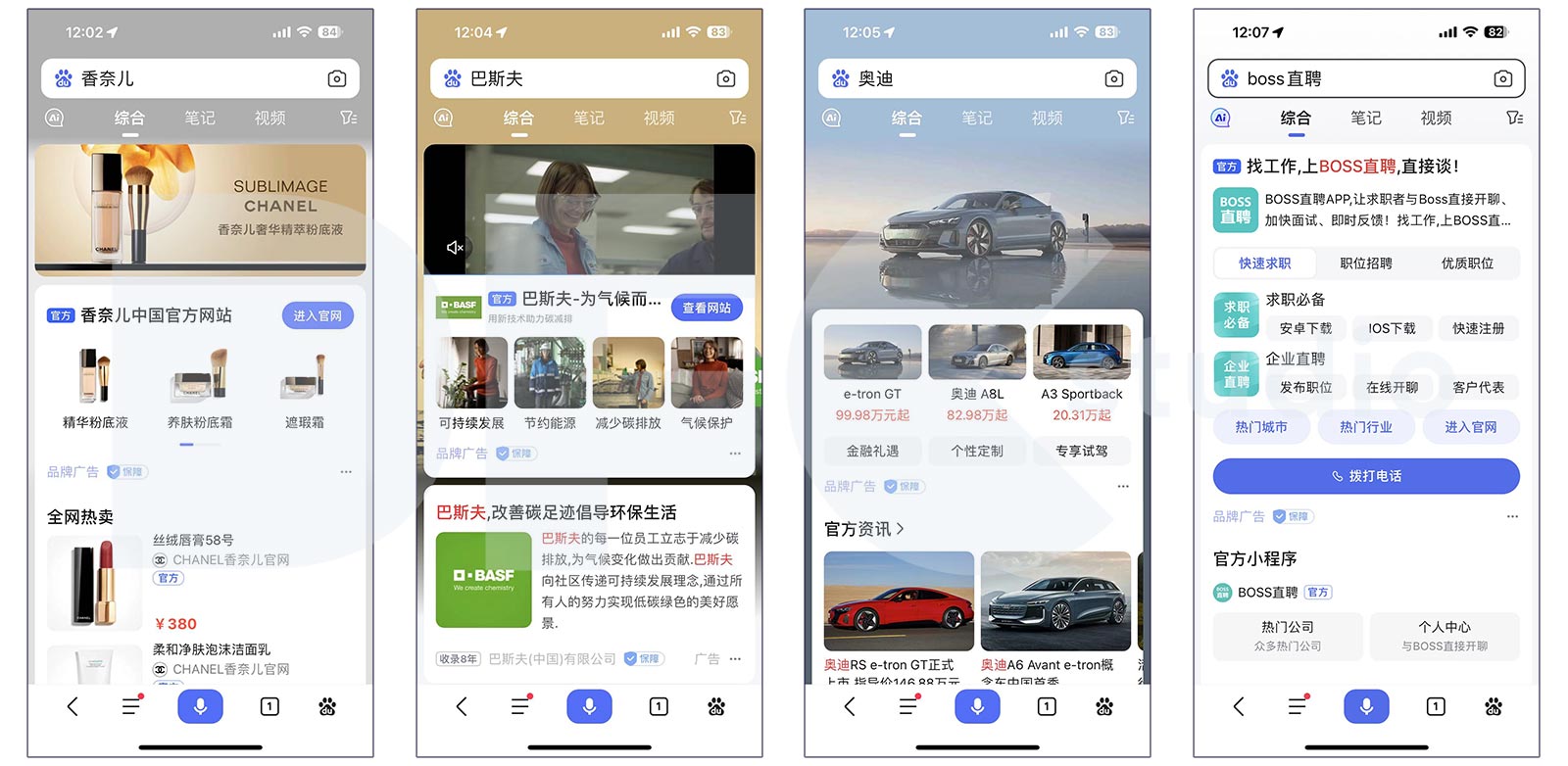 In sum, Baidu advertising is an effective promotional method that can help enhance brand awareness, attract more traffic, and ultimately boost business growth.
Which Industries Perform Best in Baidu Advertising?
1. E-commerce Industry: The e-commerce sector is one of the most successful industries in Baidu advertising. The diversity of products and fierce competition in e-commerce necessitates precise targeting to attract the right customers.
2. Education Industry: With increasing emphasis on education, more people are using the Internet to find suitable educational institutions and courses.
3. Healthcare Industry: The healthcare industry is unique but also yields positive results in Baidu advertising. Healthcare services have strong time sensitivity and require online promotion to inform more patients about their offerings.
4. Travel Industry: Travel consumers typically prioritize the quality and service of their trips. Baidu advertising can help travel companies increase their online exposure and brand recognition, thereby attracting more potential customers.
5. Real Estate Industry: Real estate products have high value and require precise targeting to attract the right customers by improving brand visibility and sales on Baidu.
6. Consumer Goods Industry: Consumer goods, including food, beverages, cosmetics, and everyday items, form a major category for advertising. Most of these products target everyday consumers, and Baidu has a large user base of search users, making it possible to directly advertise to potential customers and achieve better results.
7. Beauty and Fitness Industry: Beauty consumption is often led by young female consumers, with a rising trend in male consumers, due to younger individuals having stronger search tendencies.
These industries tend to perform well in Baidu advertising due to their specific consumer demographics, needs, and the platform's extensive user base. However, the success of any advertising campaign depends on several factors, including strategy, budget, and content quality.
How to Advertise on Baidu?
1. Baidu Search Advertising Method
Search advertising is a type of ad that internet users instantly see when searching. Generally, plans are created based on audience attributes (potential audience, target audience, brand audience). Plans contain units, and units contain keywords.
After selecting keywords, creative settings are configured, followed by bidding and placement. Typically, bidding, matching methods, and targeting are managed at the unit level.
2. Baidu Information Flow Advertising Placement
Information flow advertising is embedded within and native to news articles, mainly aimed at stimulating and influencing user demand. 
The placement method for information flow ads is similar to search ads, but it offers richer targeting options, including age, gender, location, interests, and intent-based precise targeting. Display and billing methods are also more diverse.
3. Baidu Knowledge Marketing Advertising Placement
Knowledge marketing revolves around displaying ads related to a user's decision-making process, and presenting relevant information from businesses when users search for related questions, thus alleviating user doubts. 
The key focus in knowledge marketing is selecting anchor points for questions. By choosing relevant precise questions, ads will display when users search for those questions. Another aspect is the creative approach, primarily utilizing a question-and-answer format, moving away from elaborate display styles.
Merchants can choose the most suitable advertising format based on their industry and budget.
Advertising Costs – Following Baidu's Approach
Cost Per Click (CPC) – Precise Targeted Placement
Advertising placement relies on data models derived from user-initiated searches to determine recent customer needs.
The bidding model for click prices is as follows:
Average click price = Total bid sum for industry-related keywords / Number of advertisers.
This is the suggested bid that operational colleagues advise advertisers to follow. Typically, by bidding slightly above the average, advertisers can secure a higher-ranking position.
Cost Per Time (CPT) – For Brand-Oriented Clients
Clients with brand objectives seeking increased traffic can opt for CPT (Cost Per Time).
Advertisers choose ad placement and duration, with costs unrelated to ad click volume. In this method, website owners determine the price for each ad placement, and advertisers select the purchase time frame, either on a weekly or daily basis.
The CPT costs depend on negotiations with operational colleagues, provided that the specified time or ad placement is not already occupied by others.
Using Cost Per Mille (CPM): For clients aiming to build brand awareness, CPM is a preferred option. It offers massive exposure and is effective for showcasing new products and brand building.
Before you start: Requirements for Joining Baidu Advertising
Baidu Ads Setup:
Before you start, individual entities cannot sign up; businesses must join Baidu advertising.
First, create a website or establish a web page on other business platforms. 
Then you must pass Baidu Advertising's corporate client qualification review. In order to achieve successful advertising, it is advisable to have relevant departments and personnel for website maintenance, online customer service, and phone sales.
Attention :
Baidu PPC, often considered the counterpart of Google Ads, plays a crucial role in the Chinese advertising landscape. While it's true that many aspects of American advertising have influenced the Chinese market, it's important to understand that China's internet operates under strict government regulations. 
Advertising on Baidu is exclusively available to legally registered companies, whether they are domestic or foreign entities. While Baidu functions somewhat similarly to Google in the Chinese language, it is highly advisable to seek the expertise of a professional who is well-versed in the platform and fluent in the language. This ensures the creation of a finely-tailored ad copy, utilizing the most effective keywords, to maximize the return on your investment in Baidu's PPC advertising. 
It's worth noting that the Baidu interface is exclusively available in Chinese, making it crucial to have a knowledgeable partner who can navigate this unique advertising landscape.
Getting Started on Baidu Advertising
1. Documents Needed for Baidu Advertising Application:
Registering for Google Adwords is a straightforward process, typically involving Gmail and a credit card. However, obtaining a Baidu Ad Account can be more intricate, especially for foreign companies, as additional documentation may be required (if you're new to Chinese search engines, we recommend reaching out to us for guidance on starting your advertising journey.)
To ensure the authenticity and effectiveness of advertising information and to promote a trustworthy online business environment, Baidu has established different client qualification review requirements for various industries.

 

You will need to provide materials such as a business license, ICP filing, industry qualifications, and more, depending on your industry.
2. Process for Opening a Baidu Advertising Account:
To begin advertising on Baidu, you will first need to sign a contract and pay the initial account setup fee. Subsequently, our team will review your relevant qualifications. If you'd like to learn more about qualification requirements, please get in touch with us.
Strategies for Optimal Results : Maximizing Baidu Information Stream Advertising Efficiency
To achieve more efficient information flow advertising, consider the following points:
🔎 Baidu Keyword Planner: This provides you a solid foundation of data-driven keyword selection. With this tool, you can access critical insights such as average daily search volume, mobile search volume, and keyword competition levels for specific keywords. Plus you can explore alternative keyword suggestions and gather data for a combination of keywords linked to designated landing pages.
✅ Keep Copy Short: Avoid overly long copy. It's recommended to keep your copy under 30 characters.
📷 Use Native Imagery: Opt for native images rather than promotional posters. Tests have shown that native image materials lead to better click-through rates (CTR) and lower costs.
🎯 Tailor Materials to Audience: Customize your image materials based on the audience type. Decide whether high-end, down-to-earth, attractive individuals or celebrities are most enticing for your target audience.
🗣️ Leverage Trends: If you have the authorization, consider using celebrity endorsements or attractive models to enhance your ad's appeal.
🎨 Layout Matters: Combine image materials with your advertising objectives and create a well-structured layout. Tests indicated that a collage-style layout is better than a cut-and-paste approach.
💡 Embrace Change: Users and environments are dynamic. Keep in mind that material activity cycles are typically around one week.
🧪 A/B Testing: Instead of aiming for perfection, aim for suitability. Create 5-10 sets of different creative materials and use a "rotation mode" to identify the most conversion-friendly creatives.
By following these strategies, you can enhance the efficiency of your information flow advertising on Baidu and potentially achieve better results in terms of engagement and conversion.
Measure your performance: Baidu Analytics or Google Analytics?
When it comes to web analytics tools, Baidu Analytics and Google Analytics are two prominent options. While both platforms offer valuable insights into website traffic and user behavior, they have distinct differences. 
Here's what sets them apart:
Market Focus: Baidu Analytics is tailored specifically for the Chinese market, while Google Analytics is versatile and can be used worldwide.
Mobile Emphasis: Baidu provides more comprehensive mobile device reports, catering to China's extensive mobile user base. Baidu ensures that all ads are mobile-friendly.
Data Depth: Baidu Analytics offers in-depth data tracking and reporting capabilities, surpassing Google in certain aspects.
Tracking Codes: Both platforms employ different tracking codes, making it necessary to adjust your website code if switching between them.
Historical Data: Google provides more extensive historical data compared to Baidu.
Customization: Baidu offers a broader range of customizable options and features compared to Google.
Common Questions (Google & Baidu)
1. Key Differences: Google Ads and Baidu Ads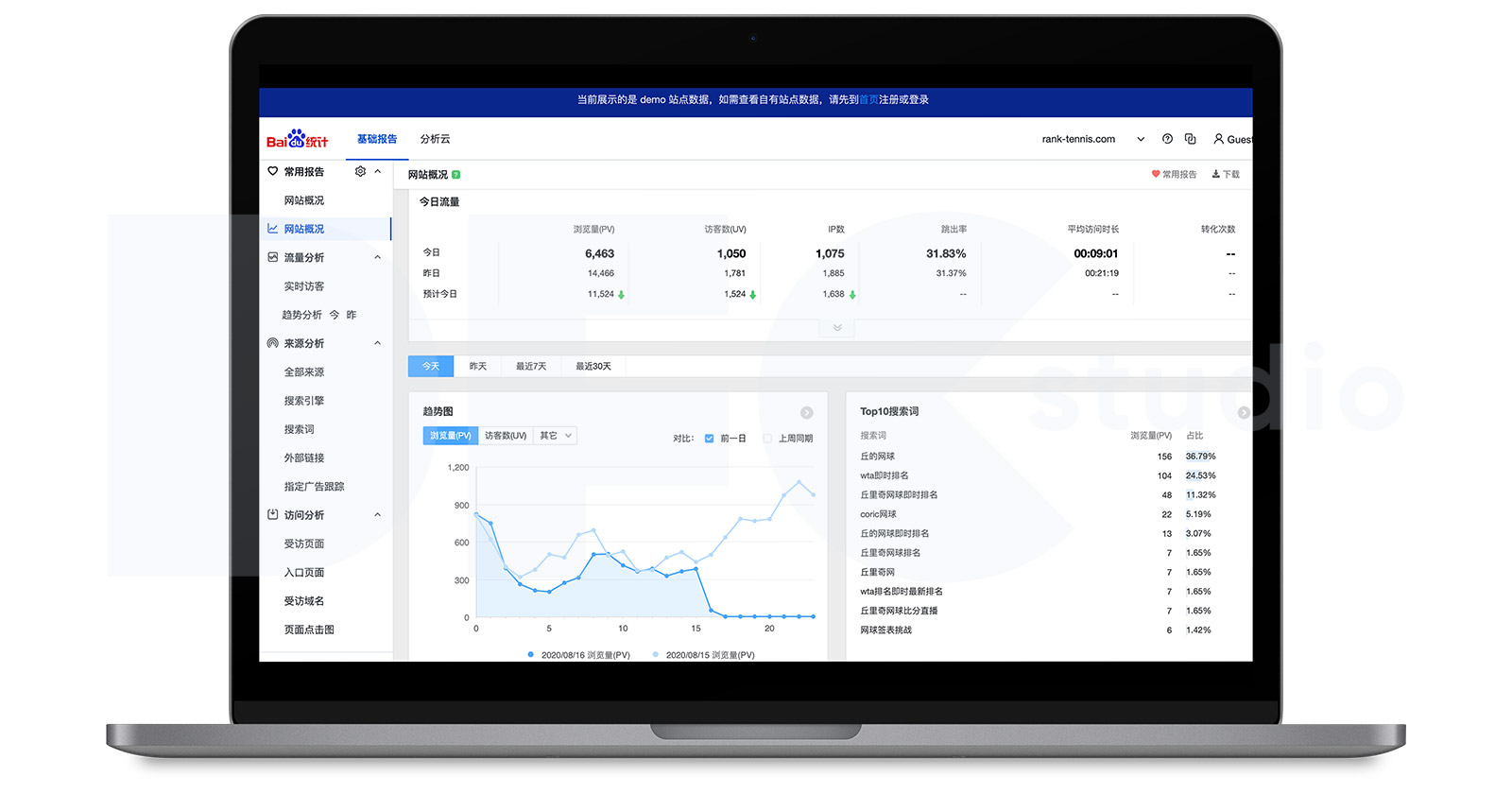 When it comes to digital advertising, while both of them share similarities, also exhibit distinct characteristics:
Clarity in Advertisements: Google Ads clearly differentiate ads from organic results. On the other hand, in Baidu Ads, this distinction is not as pronounced, potentially impacting user perception.
Ad Copy Length: Baidu allows more characters in ad copywriting, offering advertisers greater flexibility in conveying their message effectively.
Special Offers: Baidu Campaigns excel in leveraging special offers, making it challenging to replicate similar successful campaigns on Google Ads.
Ad Placement: Baidu Ads typically occupy the top positions above organic listings, ensuring greater visibility.
"Visit Card" Ads: Baidu offers "visit card" ads tailored for branded campaigns, enhancing brand recognition.
Language Usage: Baidu predominantly operates in Chinese, and using English may result in lower click-through rates (CTR). A strong understanding of the Chinese language is essential for effective Baidu advertising.
Negative Word List: Baidu allows a negative word list of up to 100 words, providing advertisers with more control over their campaigns.
2. Is Baidu Advertising the Right Choice for Your Company?
Advertising in China offers an excellent opportunity to introduce your company to Chinese consumers. However, it's crucial to ensure that your paid ads are effectively targeting the right audience. Baidu, China's leading search engine, employs a distinct algorithm compared to platforms like Google. Therefore, thorough research is essential to optimize your Baidu paid advertising campaigns and select the most relevant keywords for your specific company and products.
Furthermore, while Baidu Ads can generate initial traffic, they may not be the most cost-efficient solution for long-term success. Relying solely on Baidu advertising for traffic and online presence can erode trust among Chinese consumers. To truly conquer the Chinese market, a more comprehensive approach is often necessary.
3. Can Advertising Begin Immediately After Signing the Contract?
After registering for a Baidu Search Advertising account, you can start advertising by completing the online process. This includes making the necessary prepaid payments and creating advertising plans consisting of keywords and creatives.
Once we receive your payment and confirm the addition of keywords to your account, we will process your application within two business days, conducting a review of your advertising materials and qualifications before opening your account.
Get a free copy of our China : Essential basics to know E-book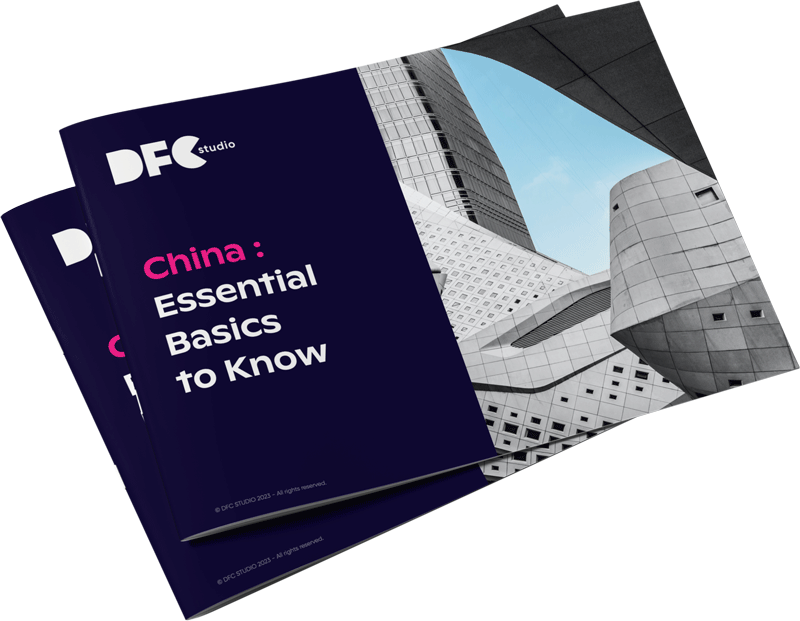 Get a free copy of our China : Essential basics to know E-book