A Comprehensive Guide to Xiaohongshu app 小红书
Xiaohongshu, commonly known as "Little Red Book" or "RED," is a rapidly growing social e-commerce platform in China. Established in 2013 as a means for users to share insights and reviews about overseas product purchases, it has evolved into a versatile platform for sharing advice, ideas, and comments on a wide range of products.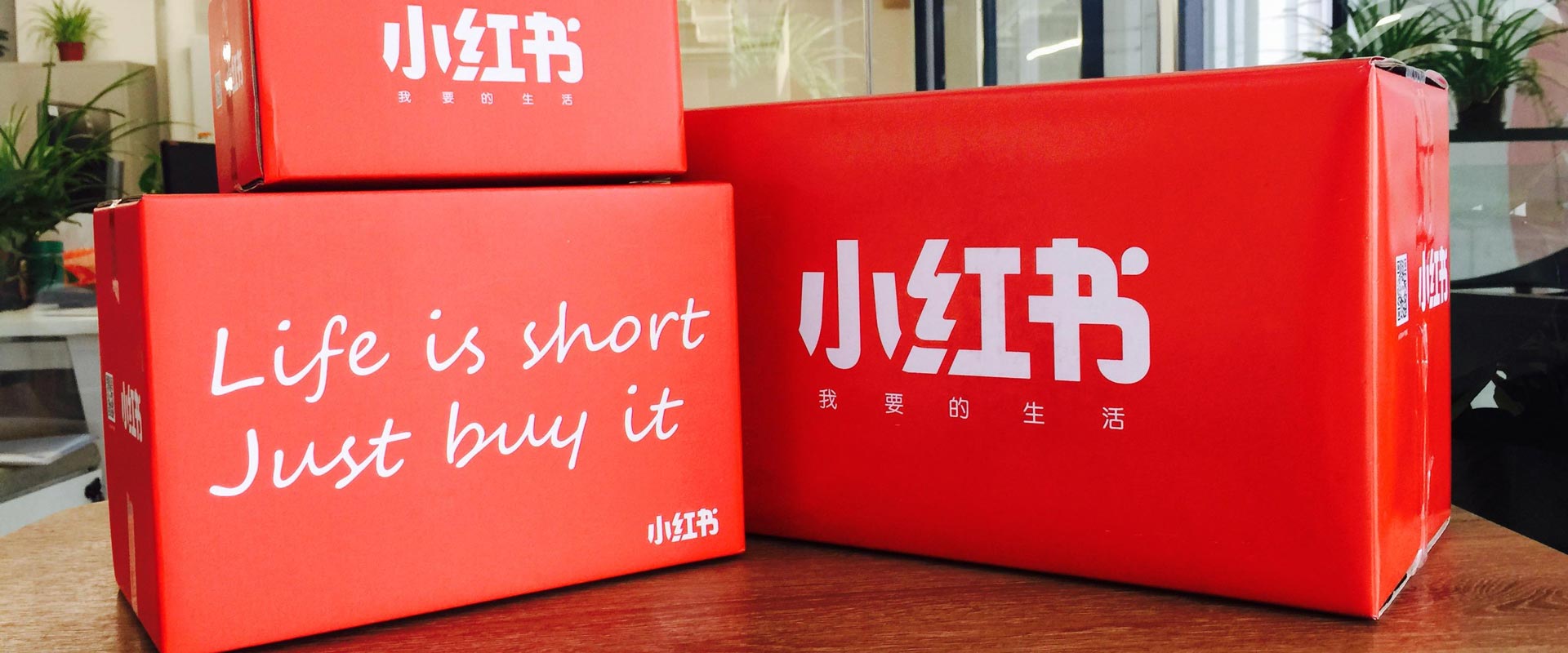 Imagine Xiaohongshu as a blend of Instagram, Pinterest, and Amazon, offering features like saving and interacting with posts, creating and sharing content, and connecting with brands' official pages. What sets it apart from other social platforms is its seamless integration of e-commerce, allowing direct purchases within a closely-knit and community-driven user base. 
Additionally, Xiaohongshu boasts its own e-commerce functionality, allowing users to purchase products featured in posts and comments, receiving investments from both Tencent and Alibaba, highlighting its significance in the social e-commerce landscape.
Overall, it's an effective channel for businesses looking to tap into this demographic and test the Chinese market's response to foreign products. You can find out more information below.
1. What is Little Red Book (Xiaohongshu)?
Little Red Book, also known as Xiaohongshu, is a thriving lifestyle-sharing and decision-making platform with over 350 million users. Founded in 2013, it's become a top social platform in China.
Notably, it was among the top three most innovative companies in China according to "Fast Company" in 2019, distinguishing itself as the sole new unicorn in this elite group.
This app is primarily a content-sharing platform where users share short photos and videos related to various lifestyle categories like fashion, beauty, food, and travel. Users can post product photos with reviews and tips, resembling Pinterest's functionality.
Unlike traditional e-commerce platforms, Little Red Book focuses on trusted user-generated content, word-of-mouth advertising, and community building. In China's booming e-commerce industry, set to reach 1.8 trillion Yuan (230.4 billion EUR) by 2022, this platform's unique blend has struck a chord with young urban Chinese women who often seek reliable product information.
Why do users use Little Red Book ?
Origin of "XHS"
Little Red Book's journey began as a response to the shopping needs of mainland Chinese travelers visiting Hong Kong. Facing language barriers and a lack of knowledge about foreign brands, travelers often had questions about luxury handbags, skincare products, and tax refunds.
Recognizing this information gap, the initial version of the platform was known as "Little Red Book Hong Kong Shopping Guide". It provided shopping-related insights and recommendations from those who had experience in Hong Kong.
Pre-purchase Research Platform
As time passed, the platform expanded and began featuring user-generated content about shopping experiences in various countries like Thailand, South Korea, and Japan.
With no surprise, the platform's name transitioned to "Little Red Book Shopping Notes."
Users extensively researched products, particularly those from abroad, and engaged in discussions about them.
App of Daily Life
Today, Little Red Book plays a pivotal role in the daily lives of Chinese consumers, all over the world.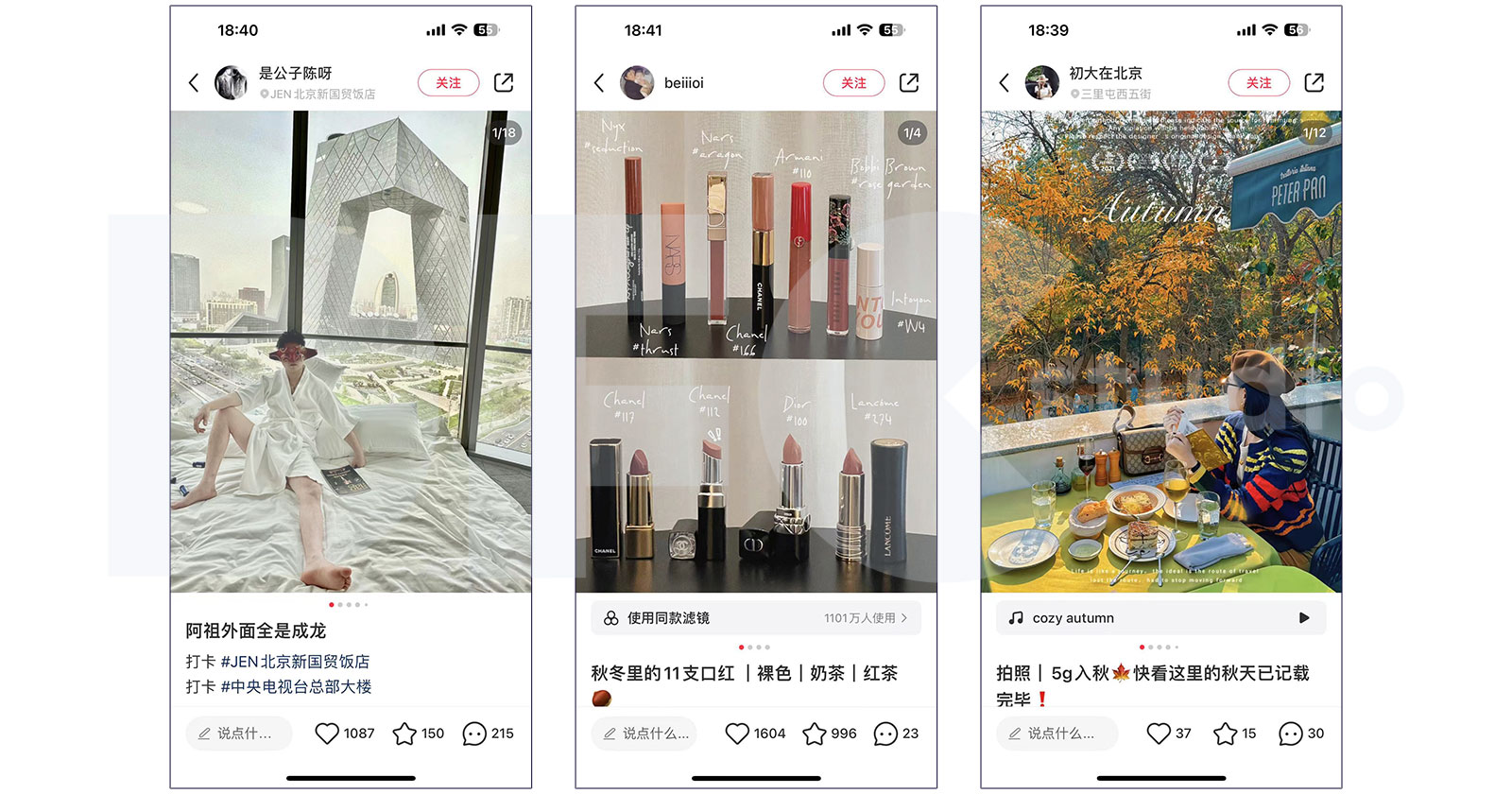 Users rely on it for product reviews, recommendations, and fashion inspiration. It's not only an essential step in the pre-purchase step for many consumers, but also becoming a crucial competitor in the e-commerce industry. Besides that people use the app for leisure, seeking inspiration, and enjoying engaging content that is both new and glamorous.
How Do Users Use Xiao Hong Shu?
In late 2018, Little Red Book introduced a "brand partner platform" to facilitate partnerships between brands and influencers. This feature enables companies to connect with the platform's influencers using content tags and access important metrics like post engagement and fan counts. Luxury brands like YSL, Shiseido, and Fendi have leveraged these collaborations to boost interest in their products. Additionally, Little Red Book has welcomed popular television drama actresses as beauty bloggers, sharing their makeup routines with their followers.
What sets Little Red Book apart is its commitment to content integrity, making it clear to users when they're viewing paid advertisements versus genuine content. Influencers are required to register paid promotional links with brands, and users not disclosing paid posts can face consequences. As for the platform's future, it remains an exciting space for further innovations and collaborations.
For example, when you are traveling, you might need to find interesting road trip plans or interesting spots to visit. For shopping experience, some people will search for brands they've found on Tmall for reviews. For inspiration, some people search for their preferred style keyword to mix and match. Big influencers usually are on the platform posting new trends and introducing new brands.
2. How Does Little Red Book (Xiaohongshu) work? – Interface presentation
You can find your front page showing 3 main categories on top of this page: Following / Discover / Local Content, following all the topics that you can find at the second column.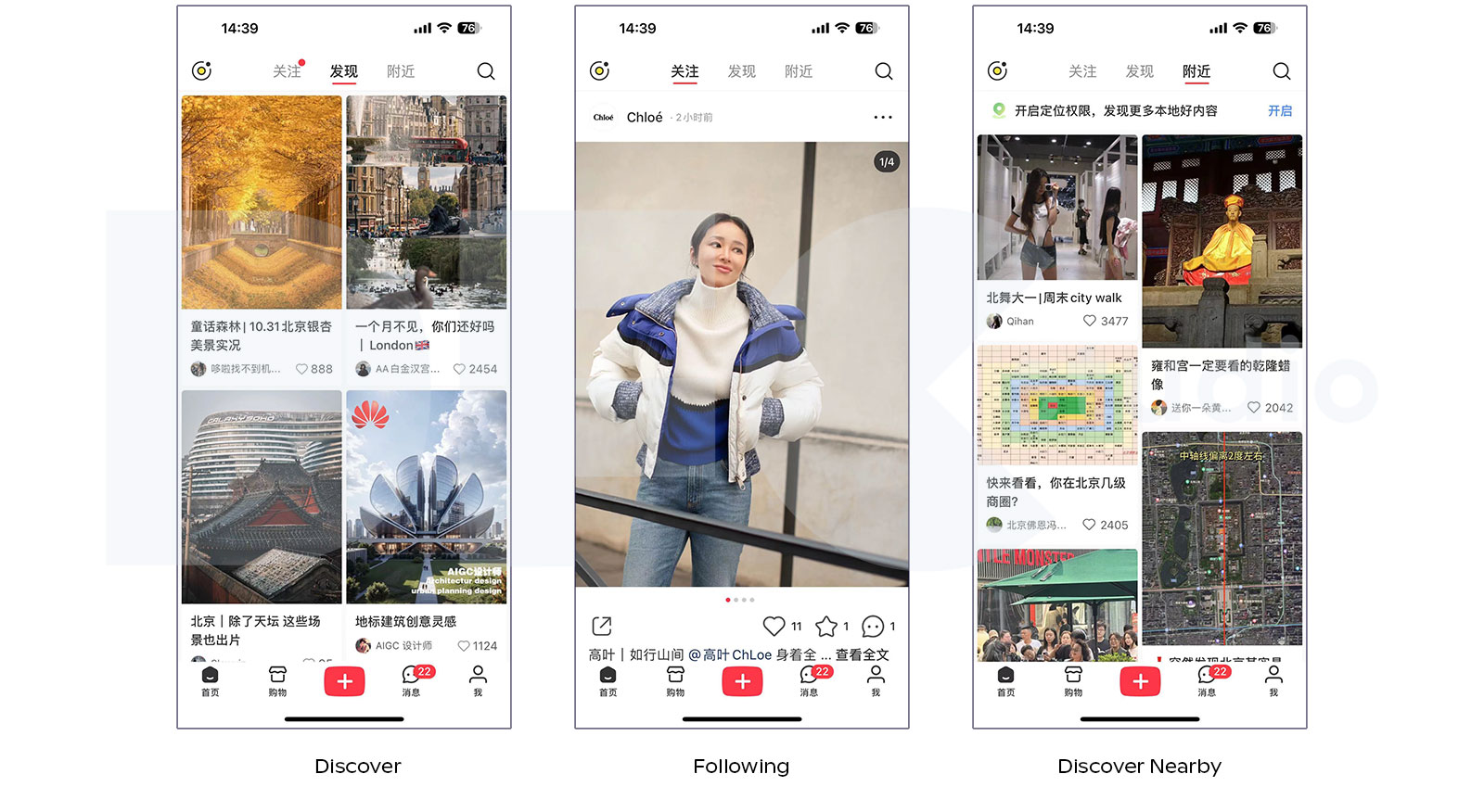 Little Red Book Official Account
Xiaohongshu allows brands to open official accounts. When you click on the front page of the brand, there will be 4 major sections: Brand Activity / Integrated E-boutique / Post mentioning the brand, and Post pinned by the brand.
In Brand Activity, you can check out all the recent activities the brand has. In E-boutique you will find the brand's official store on Xiaohongshu.
In Post mentioning the brand, you will be able to check out all the interactions the brand has with KOL/KOC or the posts mentioning the brand for more inspiration, user experience, or ad campaigns.
In Post pinned by the brand, you can see the brand's collection of posts.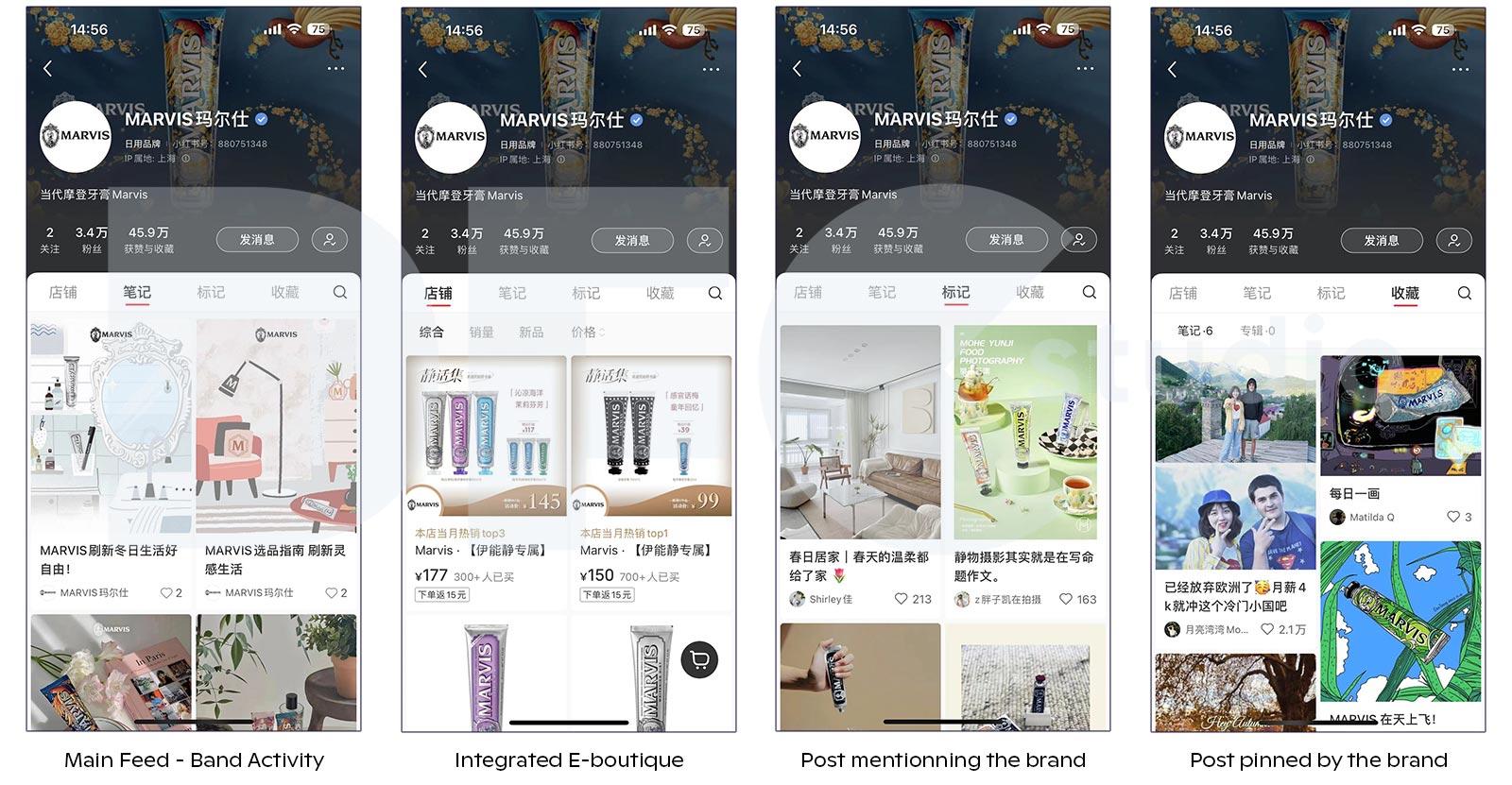 E-commerce Journey
As Xiaohongshu is known as a platform with both social and e-commerce features, therefore, there will be according stores inside Xiaohongshu for a more integrated user experience.
Simply speaking, if you are willing to purchase the product you saw, or find the official account's store, you will be able to place your order directly on Xiaohongshu, with no need to go to other platforms.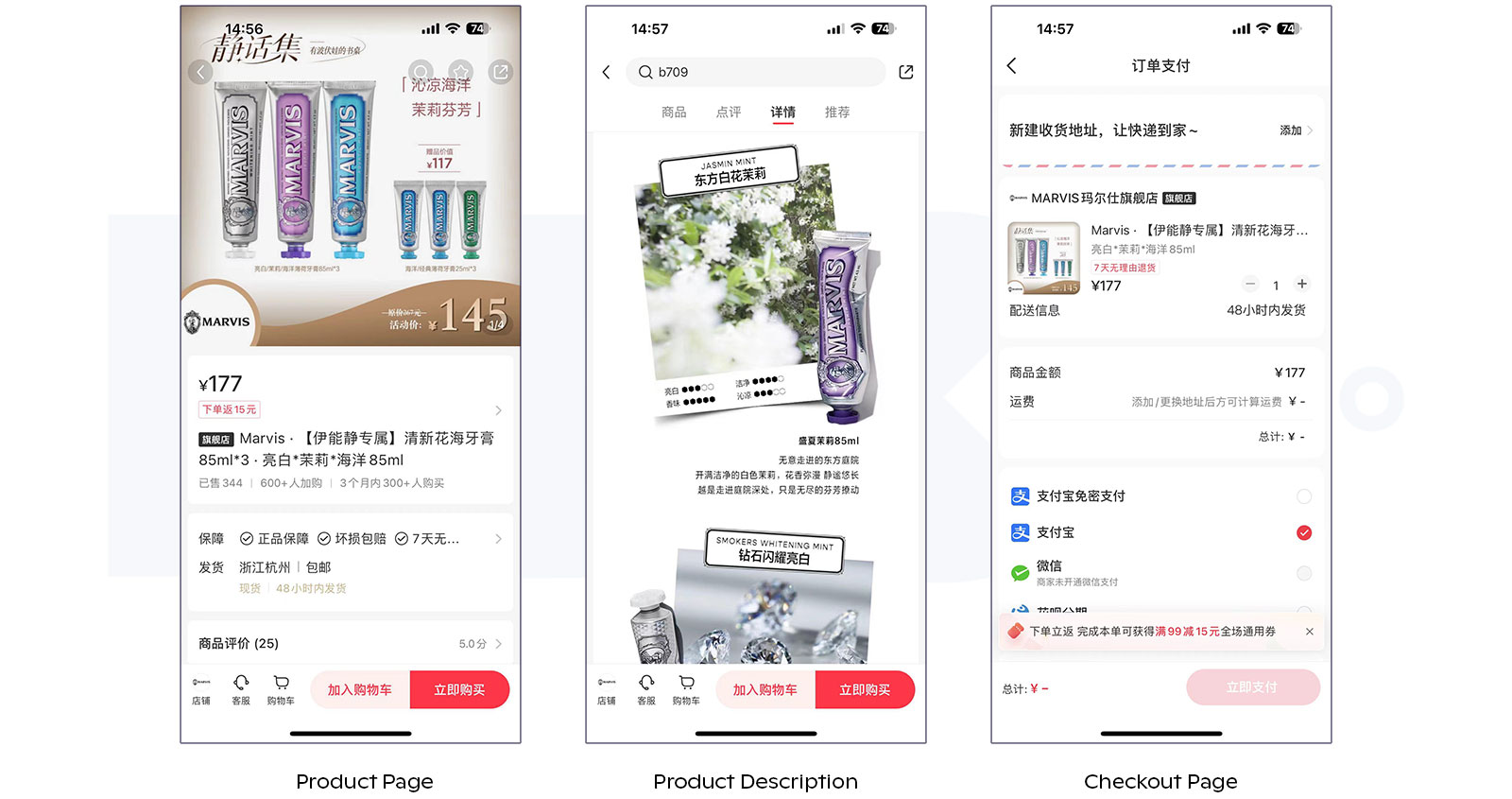 3. Who is using Little Red Book (Xiaohongshu)?
In 2022, Little Red Book witnessed a substantial increase in its monthly active users, reaching an impressive 200 million.
The majority of these users, about 72%, were born in the 1990s, and a significant 90% came from first and second-tier cities.
When considering the gender distribution among Little Red Book's user base, females constituted 88.8%, while males accounted for 11.2%. Recognizing the potential for growth in the male user demographic, Little Red Book initiated the "Men's Content Incentive Plan" in 2021, which aimed to support content tailored to male interests such as digital, fashion, sports, and automobiles.
Despite these efforts, the proportion of male users on the platform remains relatively low based on the latest available data.
4. Which industries are Little Red Book (Xiaohongshu) best suited for?
Little Red Book distinguishes itself from other Chinese social media and e-commerce platforms like WeChat and Weibo through its strong emphasis on beauty and fashion markets.
This content specialization, combined with the unique demographics of its user base, positions the platform as an ideal choice for luxury beauty brands such as Dior and Chanel, along with high-end cosmetics and niche brands.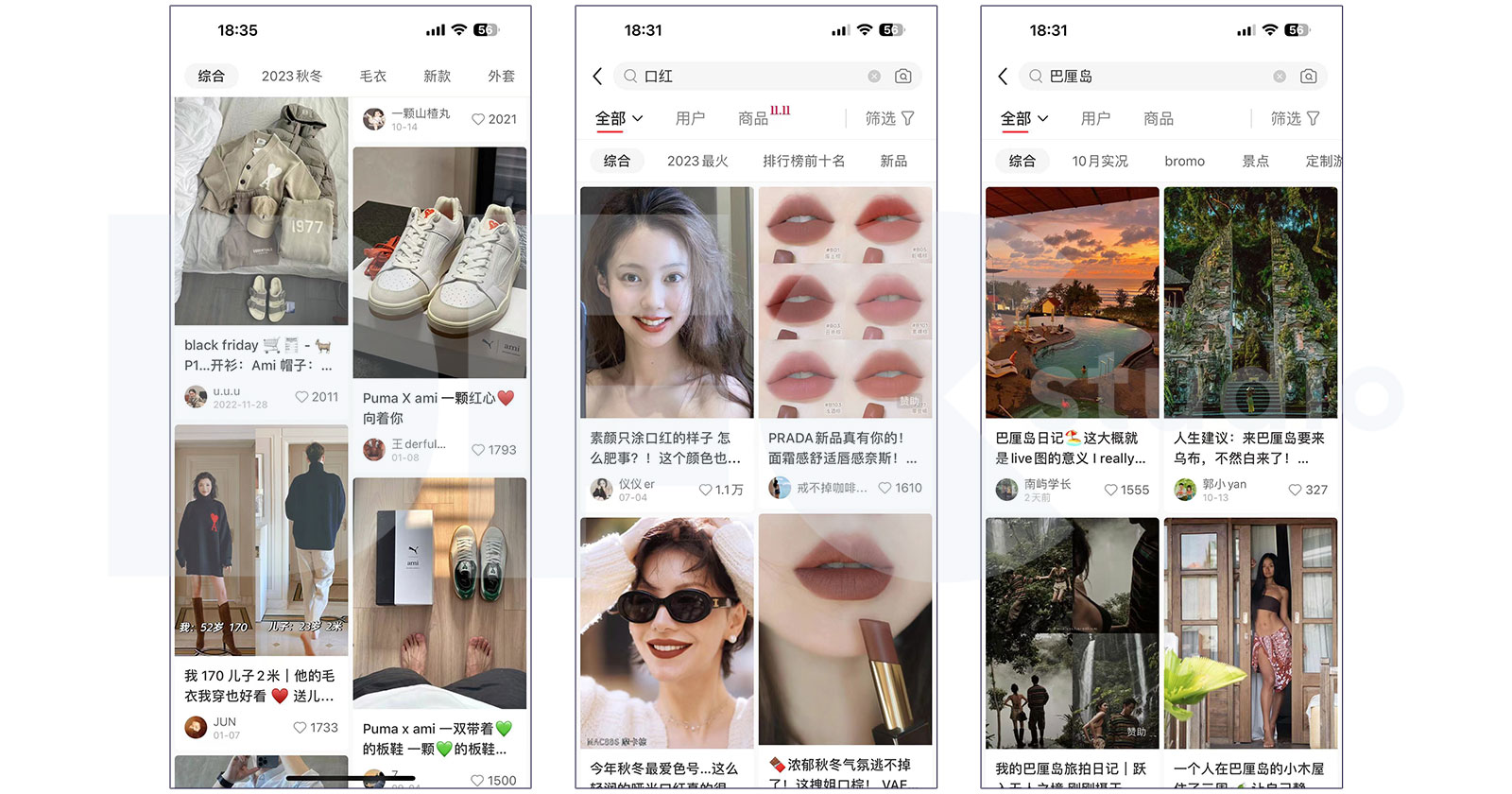 Little Red Book's market focus has been instrumental in securing substantial funding, including a notable amount in series D funding from investors like Alibaba, a significant e-commerce player.
In addition to beauty and fashion, Little Red Book also features diverse content related to lifestyle products, including nutritional supplements, and travel-related posts are particularly popular, with many travel bloggers participating actively.
The platform offers useful features like an "explore" section, which allows users to delve into various content categories like fashion, food, and travel.
Furthermore, the "nearby" section alerts users to local shopping experiences, showcasing the platform's versatility. This versatility opens up significant opportunities for global brands in industries encompassing cosmetics, clothing, and travel products.
In the following section, we'll delve into how global brands leverage Little Red Book to boost their sales.
It is an ideal place to create word of mouth and increase brand awareness, especially for smaller or lesser-known brands.
Worth mentioning, Little Red Book is a great place to partner with KOLs, make sure you find the right KOL based on their content and audience and not just their personal profile.
5. Q&A
How international brands can leverage Little Red Book in China?
Xiaohongshu (Little Red Book) had onboarded over 65,000 brands, encompassing major international players.
The platform has also become a transfer station for celebrities seeking to endorse their products. For instance, Kim Kardashian joined the platform in 2018 to promote her makeup line, KKW.
In a bid to resonate with local consumers, global brands are going the extra mile by translating their packaging into Mandarin. Simultaneously, they are actively partnering with Chinese key opinion leaders (KOLs), frequently enlisting the star power of Chinese celebrities to spearhead their advertising initiatives.
Working with KOLs and KOCs: Online influencers in China
For brands without an official account or a product-selling shop on the platform, online influencers surpass official advertisements, so working with Key Opinion Leaders (KOLs) and Key Opinion Consumers (KOCs) is pivotal.
KOL marketing is a primary strategy employed by brands to connect with their target audience. These Key Opinion Leaders have the ability to set trends, expand a brand's reach, boost brand recognition, and drive online and offline sales. 
Choosing the right KOL is of utmost importance, aligning their image with your brand and ensuring their followers match your target demographic. One common approach is to send these influencers free product samples to initiate contact.
In a landscape where authenticity is paramount, KOC marketing is also a valuable avenue to explore. Key Opinion Consumers, often considered the micro-influencers of China, are perceived as more authentic, loyal to brands, and cost-effective. However, it's essential to note that KOCs typically have a more limited sphere of influence compared to KOLs. 
The choice between KOLs and KOCs depends on the specific goals and budget of a brand's marketing strategy.
Livestreaming on Xiaohongshu
During the 2021 Spring Festival, Little Red Book witnessed a significant surge in live-streaming activities compared to the previous year, achieving an impressive average daily click-through rate of 17.53%.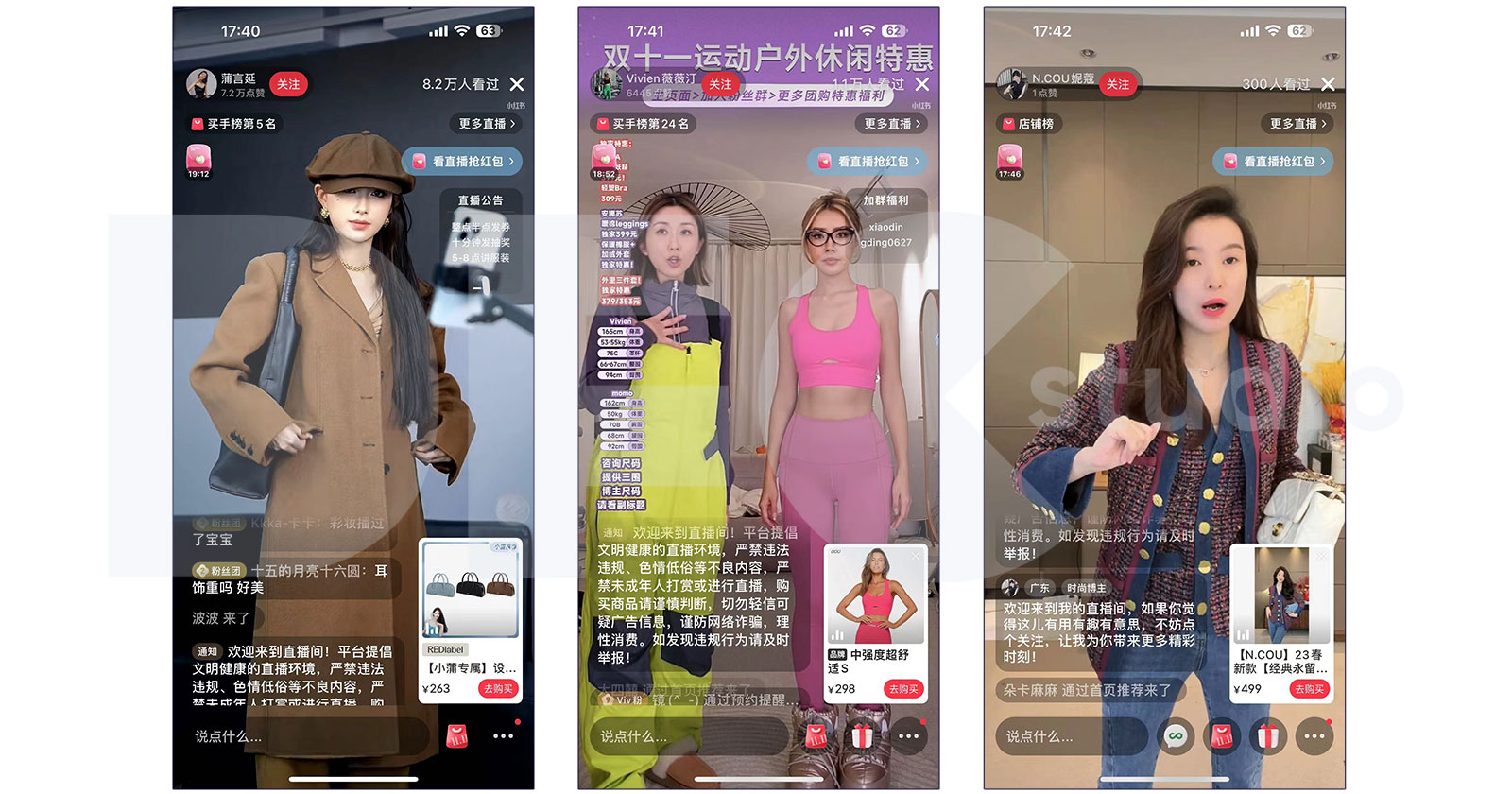 The total estimated sales from these live-streamed products reached 198 million RMB, with an average unit price exceeding 100 RMB. Remarkably, Little Red Book's live-streaming platform outperforms others in terms of higher sale prices, increased repeat purchases, and reduced refund rates.
A key element contributing to Little Red Book's success in the live-streaming arena is the exceptional loyalty of KOL (Key Opinion Leader) fans. Prior to the introduction of live streaming, KOLs had already fostered strong connections with their fan base, providing a robust foundation for the success of live streaming. Even in the absence of prominent figures like Li Jiaqi (a top KOL on Taobao), Little Red Book continues to attract numerous brands and KOCs (Key Opinion Consumers) to participate in live-streaming, directly engaging with their followers. 
What's more, Little Red Book excels in training and nurturing high-quality KOCs, thereby cultivating a base of devoted customers.
Is it important to open a Little Reb Book official account?
XiaoHongShu's e-commerce platform greatly benefits from the utilization of brand accounts, distinguished by their verification checkmarks adjacent to the account name, signifying their official status.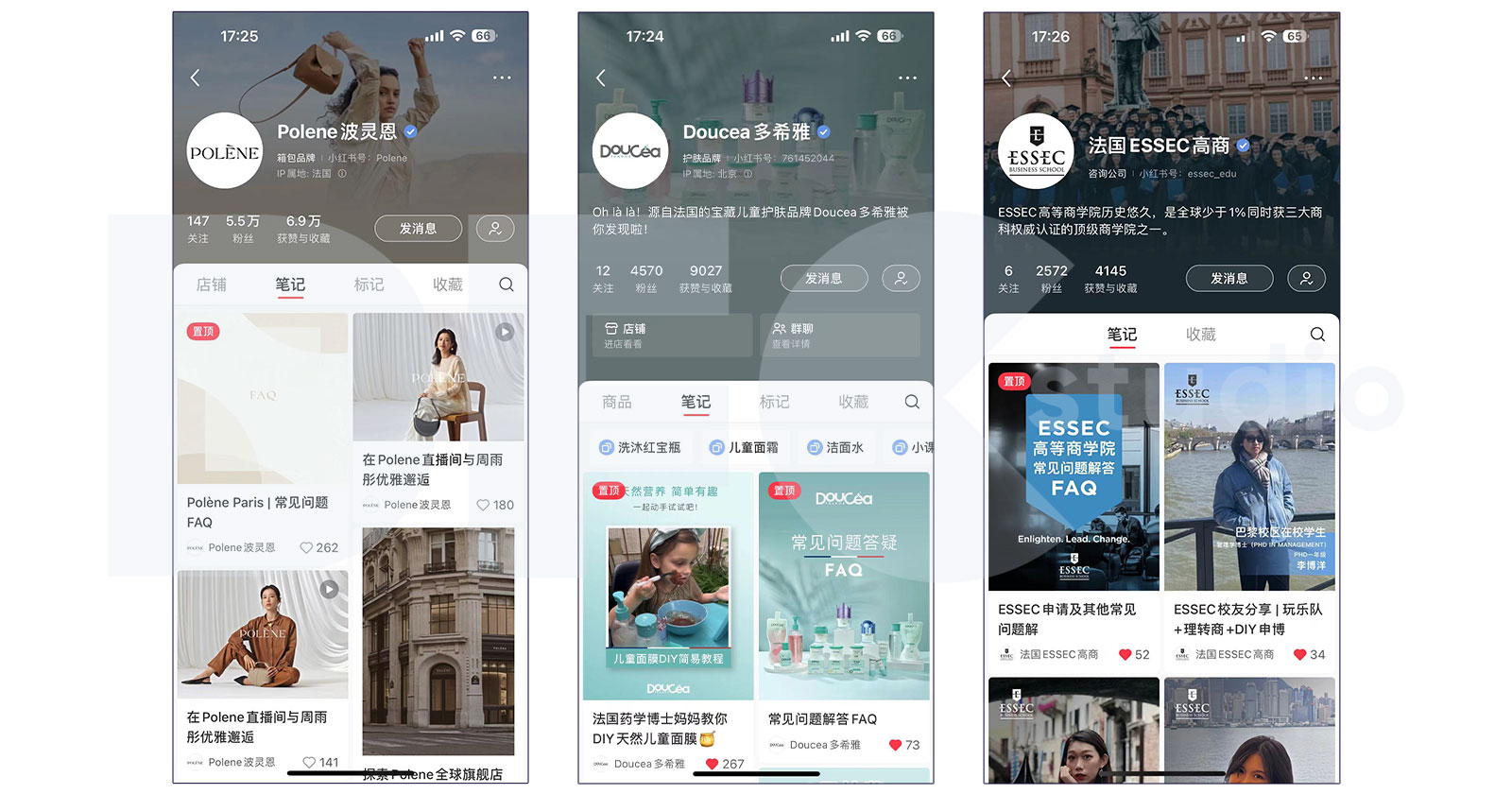 An official brand account provides an enhanced avenue for interaction and connection with the app's user base. It empowers you to undertake actions like dispatching promotional messages to your followers, engaging with fan reviews, and promptly addressing user queries. Additionally, a brand account permits the publication of advertising content and grants access to valuable data, including audience analysis and metrics like post views and click-through rates.
In the context of this guide on selling effectively on XiaoHongShu, it's essential to emphasize that a brand account is a fundamental prerequisite for establishing an online store and commencing sales on the platform. Please connect with us if you have the necessity to do account certification.
If you have further questions about Little Reb Book, for more solutions to your business on the platform, and moreover in China,  don't hesitate to reach us 🙂
Get a free copy of our China : Essential basics to know E-book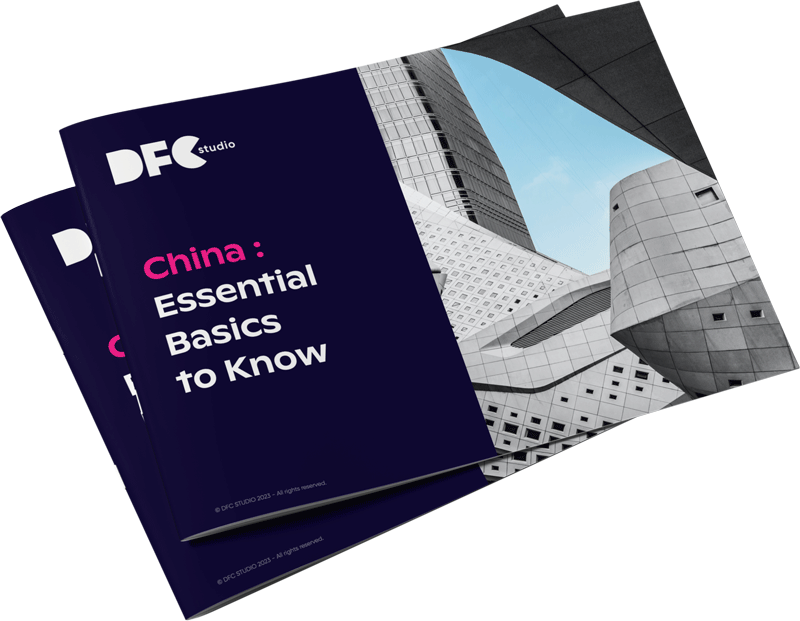 Get a free copy of our China : Essential basics to know E-book